New law aimed at reducing spread of HIV, hepatitis
RICK CALLAHAN | 1/18/2016, 4:31 p.m.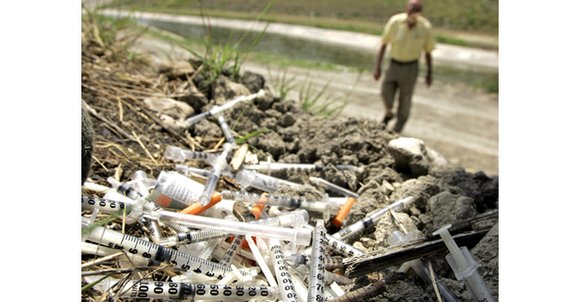 Indiana Gov. Mike Pence, a conservative Republican who had long opposed needle exchanges as part of drug-control efforts, signed a new law last spring that gave Indiana's health commissioner authority to approve local needle exchange programs.
To date, exchanges have been approved for four Indiana counties. More than 20 other Indiana counties are planning to seek state approval for exchanges of their own and Congress' move could give some of Indiana's exchanges a boost, said Beth Meyerson, co-director of the Rural Center for AIDS/STD Prevention at Indiana University.
"For us in Indiana, and likely everywhere else, this is huge news because it allows our programs to apply for funding once it becomes available," she said.
In Kentucky, the Legislature passed a law last year that allowed local communities to set up needle-exchange programs, but only the state's two largest cities, Louisville and Lexington, have so far.
Smaller counties in eastern Kentucky, which has been devastated by prescription drug abuse, have hesitated because of funding barriers and moral objections; conservatives have long believed that needle exchanges enable drug abuse.
Russ Read, founder of the Kentucky Harm Reduction Coalition, hopes Congress' shift might send a message to local politicians and health officials.
"There's just so much fear in some of these counties," he said. "Now that the feds are on board, I think that'll maybe loosen up the purse strings, and loosen up the attitudes."