Faith, Forgiveness: The importance of letting go of bitterness
DIANE XAVIER | 1/22/2016, 5:20 p.m.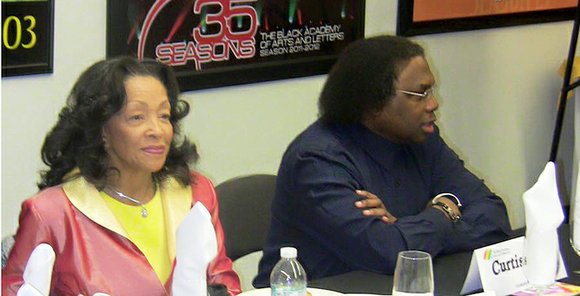 The Dallas Examiner
Longtime legendary television journalist Merri Dee of Chicago knows what it's like to overcome adversity. Having survived child abuse and homelessness as a teenager, she had no idea that the battle of her life was still ahead.
Dee, an anchor at WGN-TV in Chicago for 38 years, discussed her story and memoir in a book titled Life Lessons on Faith, Forgiveness & Grace at The Black Academy of Arts and Letters round table breakfast on Jan. 9.
To see her today, most people would have no indication of the physical and emotional trauma that she has had to endure.
"People over the years have said to me that I have such a powerful story to tell of survival and that I had to share my story," she said. "And now, I am inspiring people with this memoir and book."
She started her career in broadcasting in 1966 at radio station WBEE in Harvey, Illinois, and later auditioned for the television station, where she was picked out of a hundred candidates for the job. She was one of Chicago's first African American female anchors.
In 1971, she became the host of her own show, The Merri Dee Show, on WSNS. One evening, after her show, Dee and one of her guests went out to have coffee at a local bistro. When they left the bistro and returned to the station's parking lot, the two were kidnapped at gunpoint and taken to a forest preserve where they were both shot in the head. The guest died, while Dee survived the attack. Dee crawled onto the highway where an ambulance spotted her.
It took her a year to recover enough to return to work.
"I fortunately survived the attacks and it was a long recovery, but I am here today totally because I am blessed," she said. "My message today is one of forgiveness because my dad told me when I was a little girl that I shouldn't be angry with my brothers when I go to sleep because if you do, they sleep with you. I never forgot that and in fact at the night of the kidnapping, I actually thought about that. Don't be angry, just survive and figure out what you have to do."
Dee's shooter was arrested after they found him driving her car in Indiana. He received a 120-year term in prison. However, he only served 12 of those years. After his release, Dee was inspired to advocate for victim's rights. She testified before the National Sentencing Commission on behalf of victims of violence and families of those who could no longer speak. She witnessed the passage of the state of Illinois' first Victims Bill of Rights.
Dee said the bill would serve as a model for similar laws throughout the United States.
Dee also shared her thoughts about the recent televised shooting of a television news reporter by her ex-colleague in Moneta, Virginia, on Aug. 26, 2015.
"It just upset me so much I actually got on the telephone and called some of the people I knew that were on the air," she said. "We had that before in my lifetime, but this one touched me for some reason. I called up and said be careful, be careful. Watch your accusatory sound when you are speaking to people and just as a little bit of a warning to be more sensitive, be more caring because you never know what people are going through."