Queen of Creole Cuisine Leah Chase still cooking at 93
REBECCA SANTANA | 1/25/2016, 6:23 a.m.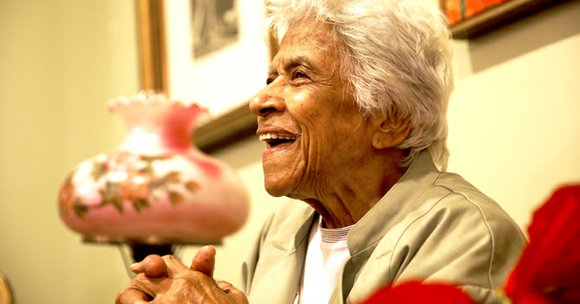 NEW ORLEANS (AP) – Leah Chase has spent her culinary life on the cutting edge of history, mixing fine dining with her southern Louisiana roots at her classic New Orleans restaurant, Dooky Chase's.
She broke the city's segregation laws decades ago by serving White and Black customers, including civil rights leaders like Thurgood Marshall. She offered an upscale, white-tablecloth dining experience at a time when none existed for Blacks in the city. Her jambalaya, fried oysters, shrimp Creole and Gumbo des Herbes have introduced countless people to Creole cooking.
The woman who's been dubbed the Queen of Creole Cuisine says she has few regrets – maybe just one.
"Maybe I should have worked harder. I don't know. But I did the best I could do," said Chase, sitting in the dining room during a recent lunch rush, while fielding tourists' requests for autographs of her cookbooks or photos.
The notion that Chase hasn't worked hard enough would shock her customers. Using a walker, she still goes table to table and greets diners and steps into the kitchen to make sure her fried chicken is crispy on the outside and moist on the inside.
Chase, who turns 93 on Wednesday, has spent most of her life cooking and directing the restaurant named after her husband in Treme, a historic African American neighborhood. New Orleans restaurateur John Besh calls her an "ambassador of our food, our people of south Louisiana," where she prepares classic dishes like red beans and rice or shrimp Clemenceau.
The restaurant opened in 1941 serving sandwiches and lottery tickets. Not until after Chase married her husband Dooky in 1946 was it gradually redesigned to offer more upscale dining: tablecloths and silverware set on the table, for example, and Creole dishes.
Segregation meant that fancy restaurants were off limits to Black patrons in the city. But those same restaurants were staffed by Black employees, and Chase waited tables in the French Quarter during World War II.
"I worked in a restaurant so I knew what they did in them. I said well, why we can't have that for our people? Why we can't have a nice space?" she said.
Dooky Chase's also became the meeting spot for Black and White civil rights activists.
Ernest "Dutch" Morial, the city's first African American mayor, courted his wife Sybil Morial during lunches at Dooky Chase's. Sybil Morial recalled how Marshall and other lawyers would visit New Orleans and work with her husband and fellow NAACP lawyer, A.P. Tureaud, to plot legal strategies after the 1954 landmark ruling of Brown vs. Board of Education. The Black and White lawyers would go to Dooky's for lunch or dinner.
"It was a haven for them to refresh themselves with wonderful gumbo and it was a place where they could strategize after a hard day's work," Morial said.
Chase doesn't boast about it, saying simply that she did what she thought she had to do.
"All I had to do was feed them. If they were in jail in New Orleans I would send food to jail. They didn't eat that prison food," she said.