Reducing the rate of recidivism
hopes initiative and justice unit will be the answer
MIKE McGEE | 1/29/2016, 7:46 p.m.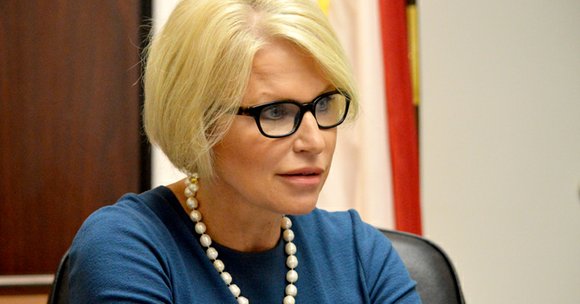 The Dallas Examiner
"That's why I'm such a believer," said District Attorney Susan Hawk as she described the Reformative Justice Unit programs her office developed in 2015 as a remedy to reduce nonviolent crime and re-arrests in the county – especially for those who suffer from mental illness.
"I watched it every day. I've seen it."
Hawk underscored that RJU programs Stabilize Engagement and Treatment, Achieve Inspire Motivate, and Citizens Against Recidivism have their roots in her work in the 291st District Court.
"I was a judge for 11 years … and I created one of the first specialty courts, the very first in the state of Texas, that dealt with aggravated offenders," she offered. "It was called the ATLAS (Achieving True Liberty and Success) Mental Health Court."
ATLAS was designed to mitigate the mass incarcerations that Hawk said were not reducing crime or recidivism.
"Sending people to jail or prison for a minimum amount of time because we didn't have any resources or programs out there available only made them worse when they got out to reoffend," she voiced. AIM and SET were developed to provide improvement in two distinct areas.
"The SET program is for mentally ill offenders and, as you imagine, it's something that's near and dear to my heart because of mental illness," Hawk admitted.
During an October 2015 interview with The Dallas Examiner, Hawk spoke about her own struggle with a major depressive disorder and her outlook on those within the legal system who face similar obstacles.
"I think there is a hole in the system; that folks aren't going to be able to get the help I did," the D.A. commented at that time. "And that's kind of where I want to focus all my attention on. What can I do to bring light to that situation to get the help to people that need help but can't afford it?"
The SET initiative will expand upon the ATLAS concept to provide greater mental health and social support options by pairing individuals in need with the assistance from county programs already in place and other entities, such as housing assistance.
"We're learning how to identify these offenders once they get to the jail," Hawk described the process. "We look at their offense, and we look at their criteria, we look at their background, we get an assessment done on them, and then we find out if they're eligible for our pre-adjudication program."
Hawk confirmed that SET is separate from a specialty court and provides those who have been assessed with a case worker and a probation officer.
"Even though they are not on probation, we have contracted with the probation department for services. We pay them a fee to monitor our folks and let them have the services that are available through probation even though they have not been adjudicated."
Alternatively, AIM is specifically for young offenders between the ages of 18 and 24.
"We are trying to identify them once they get to jail and our desire is to get them in a program where a job or education is the center focus of the program," she said.