Reducing the rate of recidivism
hopes initiative and justice unit will be the answer
MIKE McGEE | 1/29/2016, 7:46 p.m.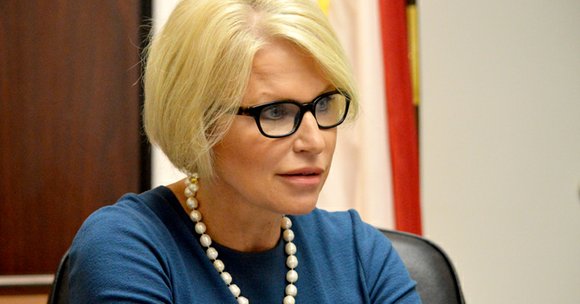 "Now there's going to be substance abuse issues and those types of things that we're going to give them services and give them the help but they will not be able to graduate until they have a skill set.
"I think what we do is we provide all these services for them through probation, and we enable a lot of folks and we give them everything they need and they graduate, and then we just leave, they're just gone. And they don't know what to do."
The D.A. reflected upon the current model of young offender programs.
"It's kind of setting them up for failure because then they have no support system when they get out."
To Hawk, the skill set for success and the guidance to stay on such a path were needed additions to the bigger picture of reducing crime.
The RJU's third component, CARe, involves the Citizen Prosecutor Academy – a weekly opportunity for county residents to gain a better understanding of the criminal investigation and prosecution process, according to the D.A.'s website – and the DAs In School initiative.
Centered on Kimball High School and its elementary and junior high "feeder schools," DAs In School began in October and is intended to familiarize students with the purpose and occupations of the criminal justice system.
"We come in as the district attorney's office and we just start dialog with them about law enforcement, and what they can do if they are victims, or if they see something that's happening, instead of getting involved in a life of crime," she said. "All these different options that they can do to see that the police aren't bad. Law enforcement's good. We want to help you; we don't want to hurt you."
Mentorship of the students by district attorneys is another aspect of CARe.
"We're starting with just a small group of folks, small number of schools, and we're just going to measure our success," Hawk affirmed.
The D.A. pointed out that the initiatives already have supporting data suggesting that the programs will be successful. The University of North Texas published a 2012 study, Final-Stage Diversion: A Safety Net for Offenders with Mental Disorders which included a look at ATLAS. "They had a control group and they followed 36 of my graduates for two years," Hawk stated. The control group were not served by ATLAS but received usual mental health services through their probation.
"We showed that individuals that graduated in our program had a 70 percent reduction in new arrests; 67 percent reduction in recidivism." Hawk also pledged that ATLAS provided a break for taxpayers. "In five years we saved taxpayers over $13.5 million in incarceration costs."
SET and AIM programs last for 12 to 18 months. Upon completion, the cases of the individuals enrolled in the programs are dismissed.
"… And we pay – the district attorney's office – pays for their expunction," Hawk affirmed, speaking about the civil court process in which first-time offenders attempt to have their criminal records sealed. "They're not going to have to get a lawyer, pay $800 to get an expunction; we're doing that with our money."