Affirmative action plan upheld by Supreme Court
MARK SHERMAN | 7/4/2016, 12:18 p.m.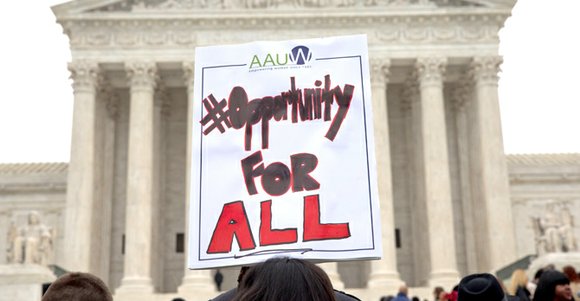 WASHINGTON (AP) – In a major victory for affirmative action, a divided Supreme Court on June 23 upheld the University of Texas admissions program that takes account of race.
The justices voted in favor of the Texas program by a 4-3 vote, an outcome that was dramatically altered by the death of Justice Antonin Scalia, who opposed affirmative action.
The university considers race among many factors in admitting the last quarter of incoming freshmen classes. Texas fills most of the freshman class by guaranteeing admission to students who graduate in the top 10 percent of their Texas high school class.
Justice Anthony Kennedy said in his majority opinion that the Texas plan complied with earlier court rulings allowing colleges to take account of race in pursuit of diversity on campus. "The university has thus met its burden of showing that the admissions policy it used … was narrowly tailored," Kennedy wrote.
The court's three more conservative justices dissented, and Justice Samuel Alito read portions of his dissent from the bench.
In a separate dissent, Justice Clarence Thomas repeated his view that the Constitution outlaws any use of race in higher education admissions.
Just seven justices participated in the decision since Scalia's death in February. Justice Elena Kagan sat out the case because she worked on it while serving in the Justice Department.
After the final ruling, Attorney General Ken Paxton was quick to share his disappointment on the outcome of the vote, calling the policy "discriminating on the basis of race."
However, many local politicians as well as legal and civil rights organizations have stated that the ruling is about equality and justice.
"The enduring effects of discrimination are still present in the lives of many Americans today," stated Rep. Eddie Bernice Johnson, D-Texas. "The Supreme Court's ruling recognizes this fact and upholds a policy that has helped to even the playing field for students across this country. Here, in Congress and across America, we must continue to fight to ensure that access to quality and affordable higher education exists for all Americans."
Considerable research shows that race-neutral admissions policies would fail to achieve meaningful levels of racial diversity at the University of Texas. Racial diversity, especially in the classroom setting, is critical in today's global economy and increasingly interconnected world. Exposure to diversity builds creativity, critical thinking and problem-solving skills. It also diminishes implicit and explicit biases among people of differences in communities, schools and the criminal justice system, according to the Lawyers' Committee for Civil Rights Under Law.
"After nearly a decade of litigation, including two separate arguments before the Supreme Court itself, the justices finally affirmed what teachers, parents and school administrators have known for years: that diversity in education is essential for student success," Rebecca L. Robertson, legal and policy director for Texas chapter of the American Civil Liberties Union, said in a written statement to the press.
In 2008, the high court ruled in the case of Abigail Fisher, a White Texan who was denied admission to the university's flagship campus in Austin. Fisher claimed she was rejected while African American applicants with lower grades and test scores were admitted. The school said Fisher, who did not graduate in the top 10 percent of her high school class, would not have been admitted with or without race as a factor. But officials did conditionally offer to allow her to transfer in as a sophomore if she maintained a 3.2 grade point average at another public college in Texas.