Affirmative action plan upheld by Supreme Court
MARK SHERMAN | 7/4/2016, 12:18 p.m.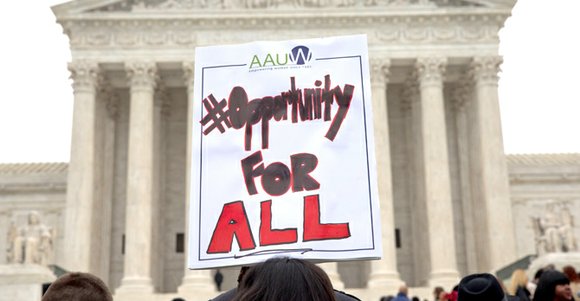 Instead, Fisher went to Louisiana State University, from which she graduated in 2012, and pursued her lawsuit. Fisher was recruited for the suit by Edward Blum, an opponent of racial preferences who has been remarkably successful in persuading the Supreme Court to hear cases challenging the use of race in education and politics. Blum was behind a major challenge to the landmark Voting Rights Act that resulted in the court eviscerating a key provision of the law and he also led an unsuccessful challenge to states' widespread practice of counting all their residents, not just those eligible to vote, in drawing legislative districts.
Justices heard Fisher's case once before, and issued an inconclusive ruling in 2013 that sent her case back to a lower court and set the stage for Monday's decision.
In 2003, the justices reaffirmed the consideration of race in the quest for diversity on campus. Their decision then set a goal of doing away with such programs in 25 years.
Texas is unique in marrying the top 10 plan to a separate admissions review in which race is one of many factors considered. The university's current freshman class is 22 percent Hispanic and 4.5 percent African American. White students make up less than half the school's freshmen.
"The Supreme Court made the right decision. As a nation, our diversity is our strength. We are at our best when we are opening doors, not when we're building walls. Today's ruling will ensure that our colleges and universities can continue to take proactive steps to level the playing field and give everyone a fair shot, regardless of their race. When people of all backgrounds have the opportunity to succeed, America succeeds," read a statement by the chairs of the Democratic National Convention's African American, Hispanic and AAPI Caucus.
Robyn H. Jimenez/The Dallas Examiner contributed to this report.