Sorority helps further educational journey
DIANE XAVIER | 7/4/2016, 11:47 a.m.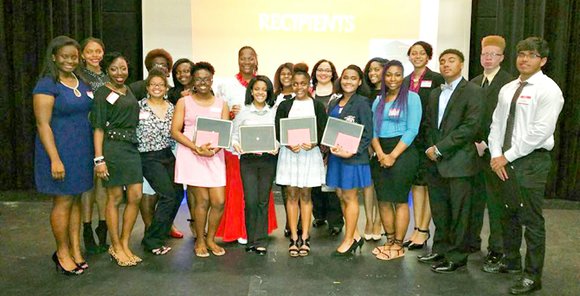 The Dallas Examiner
For the past 30 years, the Metropolitan Dallas Alumnae Chapter of Delta Sigma Theta Sorority Inc. has been a fixture in the community. Focusing on sisterhood, scholarship and service, the sorority coordinates community projects centered around economic and education development, international awareness and involvement, physical and mental health, and political awareness and involvement.
On May 20, the group helped make the dreams come true of several students in Dallas County by awarding $10,000 in scholarships to qualifying students during Pathways: Celebration of the Journey. Around 90 people attended the award ceremony held at the South Dallas Cultural Center.
Amye Thompson Hollins, MDA president, was excited about being able to help students attend college.
"It means a lot to me to award these particular students," she expressed. "Usually, we try to reach students who have a particular need, who may be first-generation college students who may be less off financially, so we try to pour into them financial blessings so that they can make it to college."
Seventy-two students from 29 Dallas County schools applied for the scholarships and 14 students were selected to win either four book scholarships, four financial assistance awards, an essay award or three merit awards. MDA also awarded scholarships to those pursuing higher education – three students from SMU and Paul Quinn College and an alumnae student working toward her graduate degree.
"The ceremony was held to show students that high school graduation is not the last significant achievement in life," said Leah Alexander, co-chair of both the Scholarship and Fundraising Committees. "They could see the example set by the outstanding sorors who were recognized for career achievements and secondary degrees received. The event also gave the VIP donors of their Fall Fundraising campaign, YES! – Youth Enrichment and Scholarship Fundraiser, the ability to see their contributions in action. Many of the children we help are first-generation college-bound students. My mother, Irene, would not have been able to afford Clark College in Atlanta, Georgia, without a scholarship from Delta Sigma Theta Sorority Inc. College was life changing for my family. Each of us has a responsibility to give back."
Alexander stressed the importance of organizations such as MDA.
"The Metropolitan Dallas Alumnae Chapter is committed to preparing Dallas County students for college through our College Readiness programs and assisting them by providing scholarships," Alexander said. "This evening was a celebration of some of Dallas County's best and the brightest as well as the generous donors who helped make this all possible.
"We raised a total of 19,000 for this year and next year. It has a great impact if we can help anybody because the average cost of college is now $29,000 dollars a year. Tuition has increased and most do not have a clue what they are in for when it comes to college costs."
Alicia Allen, a recent graduate of the Irma Lerma Rangel Young Women's Leadership School, was awarded $20,000 in scholarships by the University of Oklahoma where she plans to study nursing, yet she said everything she has received will help her meet her goals.