Star-spangled celebration: A Fourth of July menu that pops
Family Features | 7/4/2016, 11:36 a.m.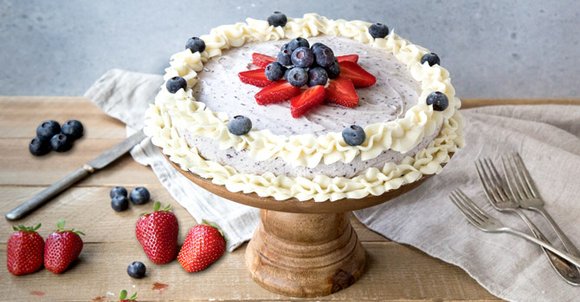 When combining the company of family and friends, the dazzling lights of a fireworks display and the mouthwatering flavors of a home-cooked meal, one has all the ingredients necessary for a fantastic Fourth of July. Whether hosting the party or preparing a dish to share, these tasty options will make the host the star of the celebration.
Add sizzle with a brat bar
Let guests have a blast taking their juicy grilled dogs and brats to a new level with a topping station containing all the traditional favorites and a few unexpected twists:
• Ketchup and mustard (with flavor variations for added zing)
• Other sauces, such as barbecue or Sriracha
• Chopped fresh and grilled onions
• Chili (homemade or from a can)
• Peppers packing varying degrees of heat
• Pickle spears and relish
• Sauerkraut or cole slaw
• Assorted shredded and crumbled cheeses
Perfect summer snack
The Fourth of July is the perfect time to gather with family and friends and celebrate the birth of the nation. As you plan your celebratory menus, be sure to include a true American original – popcorn, which is naturally low in fat and calories, and versatile enough to be topped with any number of flavorings. This perfectly seasoned snack mix will be your "go-to" for parties or get-togethers all summer long. Make ahead of time, store in an airtight container and then sprinkle on warm popcorn when you need a quick, savory snack. For more simple, tasty and festive popcorn recipes, visit http://www.popcorn.org.
Barbecue Popcorn
Seasoning Mix
Makes: about 1/3 cup
1 tablespoon brown sugar
1 tablespoon paprika
1 teaspoon dry mustard
1 teaspoon salt
1 teaspoon chili powder
1 teaspoon garlic powder
1 teaspoon onion powder
1 teaspoon cumin
1/2 teaspoon cardamom
1/2 teaspoon celery salt
1 1/4 teaspoons cayenne pepper
In small bowl, mix all ingredients together. Store mixture in airtight container.
To use: Pour melted butter over warm popcorn or spray popped popcorn with cooking spray. Sprinkle popcorn with 2 teaspoons of seasoning mix for each quart of popcorn.
Spice up with superfruit
Take grilled chicken or fish up a notch in flavor and nutrition at your Fourth of July gathering with this Mango and Avocado Salsa. This salsa's star ingredient is the superfruit mango, which is an excellent source of vitamins A and C, is a good source of fiber and also adds a delicious hint of tropical flavor to the menu. For more delicious mango recipes, visit http://www.mango.org.
Mango and Avocado Salsa
Prep time: 10 minutes
Servings: 8
2 firm but ripe mangos, peeled, pitted and diced
2 firm but ripe avocadoes, peeled, pitted and diced
2 tablespoons serrano pepper, seeded and minced
1/4 cup red onion, diced
1/4 cup red pepper, diced
2 tablespoons chopped fresh cilantro leaves
1 lime, zested and juiced
1 teaspoon chile powder
1 tablespoon extra-virgin olive oil
Combine all ingredients. Allow to sit at room temperature for 10 minutes before serving to allow flavors to blend.
Serving suggestions: Pairs well with grilled chicken or grilled fish, such as tuna or Mahi Mahi.