Star-spangled celebration: A Fourth of July menu that pops
Family Features | 7/4/2016, 11:36 a.m.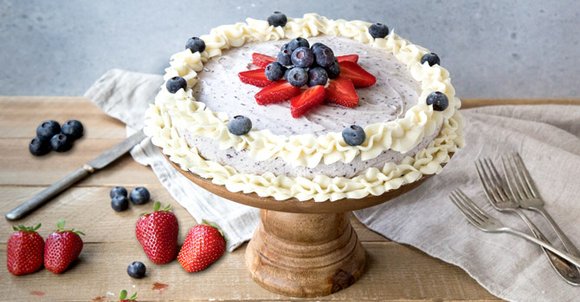 Nutritional information per serving: 112 calories; 1 g protein; 13 g carbohydrates; 7 g fat (54% calories from fat); 0 mg cholesterol; 8 mg sodium; 325 mg potassium; 2 g fiber.
Sweet, creamy grand finale
Nothing pairs with a spectacular fireworks show quite like a delicious, festive dessert you can make yourself. The Curious Creamery's Ice Cream Cake Mix provides a simple way to make a delicious and impressive dessert for your Fourth of July party – no ice cream machine required. This Blueberry Vanilla Ice Cream Cake with Cream Cheese Frosting uses a puree of fresh blueberries for a base that is topped with rich cream cheese frosting. Strawberries add a touch of color to this festive summer treat. Find more sweet and healthier dessert recipes at http://www.thecuriouscreamery.com.
Blueberry Vanilla Ice Cream Cake with Cream Cheese Frosting
Prep time: 20 minutes
Freezing time: 6-12 hours
Servings: 10-12
10 ounces (about 2 cups) fresh blueberries, cold, plus extra for decorating
16.9 ounces heavy whipping cream, cold
6 ounces white granulated sugar, chilled
1 packet The Curious Creamery Vanilla Ice Cream Cake Mix
1 tub (14 ounces) cream cheese frosting
Sliced strawberries
In blender or food processor, puree 10 ounces blueberries until smooth then place in refrigerator.
Pour heavy whipping cream in bowl of stand mixer fitted with whisk attachment. Add sugar. Pour in ice cream cake mix and then add blueberry puree.
Mix on low for 30 seconds. Cover mixing bowl with dish towel to prevent splattering. Turn mixer to high and mix for 4 minutes. The mixture will become wavy and creamy, and almost double in volume.
Pour mixture into 9-inch springform pan. Cover with plastic wrap and freeze at least 6 hours. Once frozen, ice cream cake will easily release from pan.
Remove sides of pan and decorate cake with frosting and berries. Return to freezer until ready to slice and serve.