American Legion Post 292
MIKE McGEE | 7/11/2016, 11:50 a.m.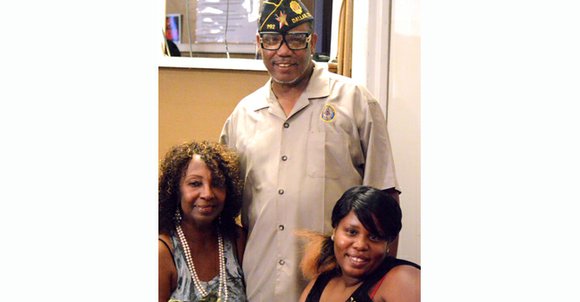 The Dallas Examiner
The aroma of southern cooking and melodies of the band Texas Grove floated on the chilled air inside American Legion Alvin Wheeler Post 292 – a sense-awakening welcome for visitors of their Appreciation Day and Installation of Officer's Program held June 26. The event at the South Marsalis location commemorated the service of current post commander, W. S. Turner and the installation of the new commander, Stephen D. Flowers.
The American Legion began in 1919 as "a patriotic veterans organization devoted to mutual helpfulness," according to the Legion. It remains a service organization focused on mentoring youth and sponsoring community programs while also promoting national security and continued dedication to veterans and other service members.
Turner affirmed that the principals put into action at the national level almost 100 years ago still drive Post 292 today.
"What we do as a post, we have events; we have members in the community; we have done blood drives, we did health fairs, we gave scholarships to students, we've sent boys to Boys State," an education program for high school students where participants learn the rights, privileges and responsibilities of voting, tax-paying Americans.
"We teach young men how to be citizens … and from time to time we go out and speak to the kids and explain to them about citizenship."
The commander said that such public engagement was especially needed now, in his view.
"For one thing, I understand civics has been taken out of high school, so they don't get that taught to them, or emphasized as much," he remarked on young people's lack of understanding the process of government.
"Because it's not emphasized, kids don't know that much about it. You ask a lot of kids, 'What do the congressmen do?' and they don't know, so that's one of the things. We're kind of making that bridge."
The outgoing commander, a veteran of the war in Vietnam, underscored that history and service were priority issues the post emphasizes to youth in the neighborhood. Such support of education within the community was evident during the program. A spoken word performance by Verb Kulture and the appearance of Porscha Kelley, author of #YBA Young Black & American, added a dose of the cultural identification and guidance the organization supports.
It is an effort that Turner felt was akin to stewardship to both the community and to others who have served.
"When I came back from Vietnam we were overlooked. [Ours] was the only conflict that was just overlooked. And a lot of us were hurt. A lot of us were disgruntled.
"By getting in the American Legion it helped me to also get the word out and bring those [other] vets in and help bridge the gap a little." He said it was an experience that he wouldn't discuss for a long time.
"I have a Silver Star but wouldn't talk about it because of the way people felt about the Vietnam War, but nobody thought to say, hey, this little 18-year-old, 19-year-old, 20-year-old kid did not wake up one morning and say, 'Hey, I'm going to Vietnam to fight.'"