Chocolate Secrets: Local chocolatier shares sweet taste of success
DIANE XAVIER | 7/11/2016, 11:47 a.m.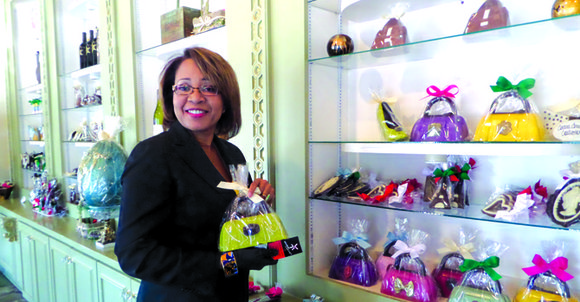 The Dallas Examiner
What's the secret to great chocolate? Pam Eudaric-Amiri would know. The owner of Chocolate Secrets & Wine Gardens Inc. on Oak Lawn Avenue treats her customers to gourmet, hand-made chocolates daily with flavors from all around the world.
Customers can choose from a variety of sweet treasures to satisfy their taste buds. Items such as bonbons, truffles, chocolate bars, chocolate dipped fruit, peanut butter cups, turtles, classic molded chocolate figures, French macaroons, confections, pastries, ice creams, sorbets, fine wines, craft beers, hot chocolates, coffees and teas are all on the menu.
"The goal is to create a relaxing, warm and inviting environment," Amiri said. "We also focus on it being a family-focused business. When you come into our store, we treat you like family. When people come through the doors, they are a member of our family, so we love you and we take care of them. It's our job not just to sell chocolates, but to give our customers a welcoming experience."
And Amiri has done just that. Not only does Chocolate Secrets offer delicious chocolates and desserts, but the company has created an eatery where people can relax, socialize and study.
"My idea was to create a place where women can get everything they ever wanted to in one place," she said. "They can get music, chocolate and wine."
The dining room features live jazz and blues Wednesday through Saturday, as well as French lessons, wine tastings and appetizers. She also sells jewelry, chocolate purses and sporting items such as chocolate footballs.
As a young child growing up in St. Croix, U.S. Virgin Islands, she and her family experienced many cultures as the family traveled around the world.
Amiri, whose father is French and mother is American, believes her background of extensive travel has helped her to develop an educated taste palette. She brought her love of food and chocolates to Dallas when she opened her business almost 13 years ago.
Amiri graduated from Rice University and earned a business degree. After receiving her undergraduate degree, she studied law at the University of Texas at Austin and received her Juris Doctor.
After practicing law for 24 years, the business litigator decided to start a chocolatier business. Amiri developed the concept after a discussion with her friends about what they would do after they retire.
"When you practice law, it is a very high and stressful gig," she said. "I was a litigator and was very tough. I was really driven and tough, a type A. Chocolate Secrets is completely the opposite extreme. I am always open, say yes, and it is a very relaxed type of environment."
The business is thriving today with a 30 percent growth rate.
She also owns a metal recycling company called Green Earth Metal recycling and is owner of Joe Carter Construction.
Amiri said what makes Chocolate Secrets standout is the organic ingredients.
"We use natural ingredients and don't use wax or use too much sugar and avoid artificial preservatives," she said. "So what you have is the best we offer."