Together We Stand: Faith leaders unite in South Dallas for citywide healing, understanding
MIKE MCGEE | 7/17/2016, 9:49 p.m.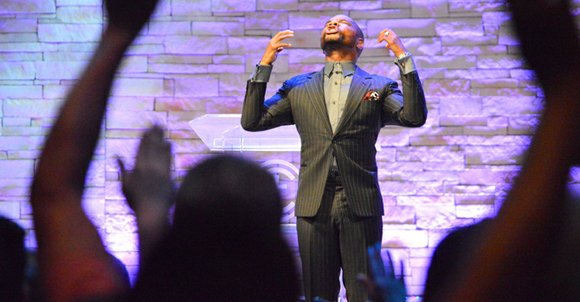 The Dallas Examiner
Together We Stand was originally intended as a convening of area faith leaders to address the recent shooting deaths of Black citizens by White law enforcement officers. Instead, the event in the Legacy Center of Concord Church took on a greater urgency and broader purpose when it was held Friday, the day after a Black veteran opened fire on White officers in Downtown Dallas near the conclusion of what was otherwise a peaceful protest against police violence.
The attack left five officers dead, wounded nine other officers and two civilians, and caused many residents of faith to wonder what could be done about the racial divide across the nation.
The Concord event, described by the Redbird-area church as an "emergency summit," featured gospel icon Kirk Franklin as a minister of musical salve to the spirits of the gathered. However, it was Pastor Bryan Carter, senior pastor of the church, who got the event rolling by bringing to the pulpit Pastor Freddy Haynes of Friendship-West Baptist Church.
"Behold how good and pleasant it is for sisters and brothers to dwell together in unity," he spoke as he looked out into the multiracial congregation that filled the sanctuary to near capacity.
"Tonight, I have been charged with talking about unity and us coming together," the pastor noted.
He referenced John, Chapter 17 in the Bible wherein Jesus commanded his followers to behave "… that we may be as one." The pastor admitted that societal barriers often prevented such bonding.
"I use the metaphor when America was born, sadly, there was a cancer in America, a cancer of racism that's structured into its body politic that Black lives don't matter. That's why it's never been an issue about all lives mattering – it's been Black lives that historically have not mattered because of the cancer of how this body politic was constructed," Haynes preached to growing applause. "We can't heal from what we're not real about."
Just as Haynes spoke of unity, many other local theologians took to the stage. George Mason of Wilshire Baptist Church spoke on the topic of grief. Oscar Castillo of Watermark Dallas spoke on forgiveness and repenting for racial bigotry, including his own self-confessed bias. Dr. Tony Evans of Oak Cliff Bible Fellowship focused on emotional pain.
"I want to join in saluting our police department and our officers for running to the problem, not running from the problem," he commented as he considered the violence of the night before.
The pastor then employed a sports metaphor as he alluded to the pain that Black family members of police shooting victims and the family members of the downed officers both felt.
"In football, coaches are given this red challenge flag. That challenge flag is thrown out when you believe that an official has made a bad call and you want to challenge that call …"
Evans noted there were times when churchgoers may feel like throwing a challenge flag on God.
"Cause it looks like He missed something. It looks like He allowed a play to be called in our lives and in our circumstance just against the home team," he announced. "People in the Bible felt it."