Black lawmakers recall police stops, racial profiling
MARY CLARE JALONICK | 7/22/2016, 11:07 a.m.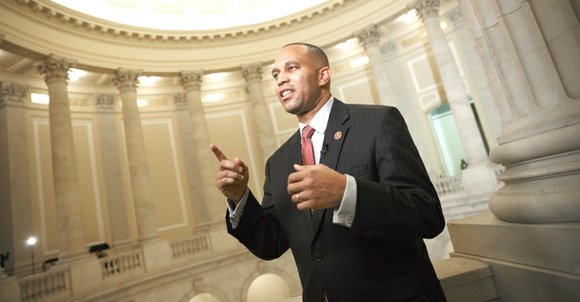 WASHINGTON (AP) – South Carolina Sen. Tim Scott, the lone Black Republican in the Senate, candidly described being stopped by police, even Capitol Hill officers, because of the color of his skin. It's an experience all too familiar to many of his African American colleagues in Congress.
A day after Scott's personal recounting on the Senate floor, several lawmakers said Thursday that they have had similar experiences, whether it's being pulled over for no reason while driving in their hometown or being challenged by police. Their White colleagues, they are sure, would never be treated the same way.
Scott described being pulled over seven times within a year and also being stopped by a U.S. Capitol police officer who said he recognized the pin he was wearing that identifies him as a senator – but didn't recognize Scott.
"I have felt the anger, the frustration, the sadness and the humiliation that comes with feeling like you're being targeted for nothing more than just being yourself,'' Scott said.
Americans have questioned the state of race relations after gun violence directed at police officers as well as shootings by police. Last week, a Black Army veteran killed five police officers in Dallas in revenge for police shooting Black men in Baton Rouge, Louisiana, and the Minneapolis suburbs.
As a nation reels, Black lawmakers say they hope Scott's speech resonates, leading to a greater understanding about the divide between blue and Black.
"I am absolutely convinced that most African American members of Congress, particularly the men, have encountered some form of a hostile police encounter over the years,'' said Rep. Hakeem Jeffries, D-NY.
Jeffries, 45, recalled twice when he was younger being pulled over by police and searched along with African American friends. No reason was given for the stops. Several other Black male lawmakers told similar stories.
South Carolina Rep. James Clyburn, the No. 3 Democrat in the House and a veteran of 1960s civil rights marches, said he was once being driven in South Carolina in his car with congressional tags. A policeman stopped the car and asked the driver, "Where's the congressman?'' while staring directly at Clyburn sitting in the backseat.
"He doesn't see a congressman, he sees a Black face,'' Clyburn said.
Sen. Cory Booker, D-NJ, the only other African American in the Senate, wrote an essay for the Stanford University newspaper after he graduated from that school in the early 1990s about being stopped by police, guns pointed at him, for "fitting the description'' of a car thief.
"In the jewelry store, they lock the case when I walk in,'' Booker wrote. "In the shoe store, they help the White man who walks in after me.''
Booker said he read the article, written when he was 23, at the Senate Democratic Caucus meeting Tuesday.
Of Scott's speech, Booker said it was powerful and "frankly showed a lot of courage for him to tell the truth.''
Most Black lawmakers interviewed by The Associated Press said they were treated well by Capitol Police, the force that protects Congress and its people. Some said they were often asked to stop and identify themselves on the Hill, though they weren't sure if it was because of the color of their skin.