Hope beyond the sorrow: Obama addresses injustice, grief, healing and unity
MIKE MCGEE | 7/22/2016, 11:11 a.m.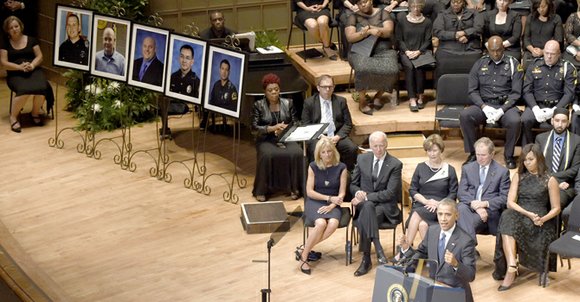 The Dallas Examiner
"At 8:58 p.m. five days ago, the soul of our city was pierced when police officers were ambushed in a cowardly attack," Mayor Mike Rawlings explicated inside the Morton H. Meyerson Symphony Center during a July 12 interfaith memorial service for five law enforcement officers killed by a gunman, July 7.
The assault by U.S. Army reservist Micah Johnson also wounded nine other officers and individuals as the nonviolent protest in response to recent police shootings of Black men in other states was coming to a conclusion.
"Today, we open our city's doors to our friends and to our neighbors. We realize that our pain is your pain," the mayor continued.
The officers killed in the racially motivated attack – Dallas Police Department Senior Cpl. Lorne Ahrens, DPD Officer Michael Krol, DPD Sgt. Michael Smith, DPD Officer Patrick Zamarripa and DART Officer Brent Thompson – were commemorated by President Barack Obama and first lady Michelle Obama, Vice President Joe Biden and Dr. Jill Biden, former President George W. Bush and Laura Bush, Sens. Ted Cruz and John Cornyn, and Rep. Eddie Bernice Johnson.
"These men and women are here with us because they know we have a common disease – this absurd violence on our streets. Those that will help us fight it are our men and women in blue. Our peacemakers in blue – they have died for that cause," stated Rawlings.
He also took a moment to acknowledge the path away from extremism.
"To wage this battle against violence and separatism, today must be about unity. Unity among faiths, unity among police and citizens, and, yes, unity among politicians."
He asserted that he had seen that unity even before the shooting.
"… When police and protesters mingled peacefully. I've seen unity when the protestors came out in support of police after the days of this tragedy."
"The past few days have been some of the darkest in our city's history; there's no question about that. As we bury these men in the coming days it will not get easier, I know. But there's nothing like a crisis that forces one to take pause of your life and your city's life," Rawlings recited, injecting a bare optimism and the concept of society's self-improvement into the memorial. Other guests spoke on similar themes.
"Today the nation grieves, but those of us who love Dallas and call it home, have had five deaths in the family," said Bush as he underscored the futility in citizens demonizing one another. Rather, he urged listeners to find a common ground from which to work.
"At times, it seems like the forces pulling us apart are stronger than the forces binding us together," stated Bush. "Argument turns too easily into animosity. Disagreement escalates too quickly into dehumanization. Too often we judge other groups by their worst examples, while judging ourselves by our best intentions."
"At our best, we practice empathy, imagining ourselves in the lives and circumstances of others. This is the bridge across our nation's deepest divisions. And it is not merely a matter of tolerance, but of learning from the struggles and stories of our fellow citizens and finding our better selves in the process."