Athletes discuss equal rights, end to gun violence
BETH HARRIS | 7/23/2016, 3:30 p.m.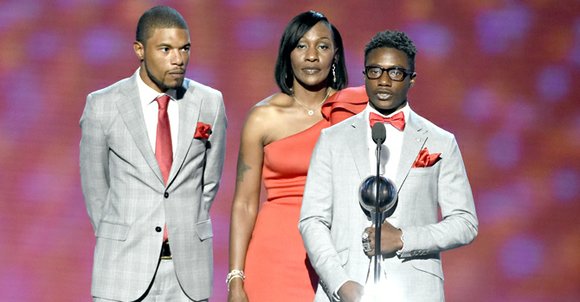 LOS ANGELES (AP) – Golden State star Stephen Curry thanked NBA stars Carmelo Anthony, Chris Paul, Dwyane Wade and LeBron James for their message while accepting the night's first award for record-breaking performance. He hit 402 three-pointers during the regular season.
James won best male athlete and championship performance for the third time in his career and his fifth trophy as top NBA player. He shared the team and best moment awards with his Cavaliers teammates who upset Golden State to deliver the first championship for Cleveland in 52 years.
In accepting best moment, James brought teammates Kyrie Irving and Kevin Love onstage, where he saluted Pro Football Hall of Famer Jim Brown for his early social activism in the hardscrabble city.
Breanna Stewart won best female athlete on her third try, beating WNBA MVP Elena Delle Donne and two Olympians, swimmer Katie Ledecky and gymnast Simone Biles. Stewart helped the University of Connecticut win a fourth straight NCAA basketball championship before going to the WNBA.
In her speech, Stewart called for equality for female athletes.
"Female athletes don't receive half the fame. I know everyone in this room loves and supports women and girls in sports and wants to be a part of that change, right?'' she said. "Equality for all takes each of us making an effort. Together let's be better.''
WWE star John Cena hosted the show from Microsoft Theater in downtown Los Angeles.
In one of the night's most emotional moments, Zaevion Dobson, a 15-year-old high school football player from Knoxville, Tennessee, was honored posthumously with the Arthur Ashe Courage Award for giving his life to shield two young women from gunfire last year. His mother, Zenobia Dobson, and two brothers accepted the trophy from Curry, with last year's honoree Caitlyn Jenner joining the standing ovation.
Dobson told the audience that four months after her son's death his 12-year-old cousin was killed in a drive-by shooting on his way home from a basketball game where Zaevion was honored.
"I'm here to fight back,'' Dobson said. "We as a country need to take a stand to consider the effects of gun violence on the families throughout America.''
Tears welled in the eyes of several athletes who applauded her comments.
"We need to rewrite laws to make it harder for people to get guns,'' Dobson said. "All the athletes in this room – you have a lot of power. People look up to you. I know Zaevion did, and I urge you to think tonight about why he died and what you can do tomorrow to prevent the next innocent man or woman from being lost as well.''
In video comments, President Barack Obama said, "It's up to all of us to build a country that's worthy of Zaevion's promise. That's what we owe him. That's what we owe all our kids.''
Vice President Joe Biden presented TNT sideline reporter Craig Sager with the Jimmy V Award for Perseverance for his strength and determination while fighting leukemia for one-and-a-half years. During the commercial break, Shaquille O'Neal, Charles Barkley and Reggie Miller joined Sager and Biden onstage for a photo.
The Pat Tillman Award for Service was presented to Paralympic swimmer Sgt. Elizabeth Marks for her strength through adversity and continued service to her country.
Singer Justin Timberlake gave the Icon Award to Kobe Bryant, Peyton Manning and Abby Wambach, all of whom retired from their respective sports this year.