Community cookout offers opens dialogue
ROXANA HEGEMAN | 7/25/2016, 11:41 a.m.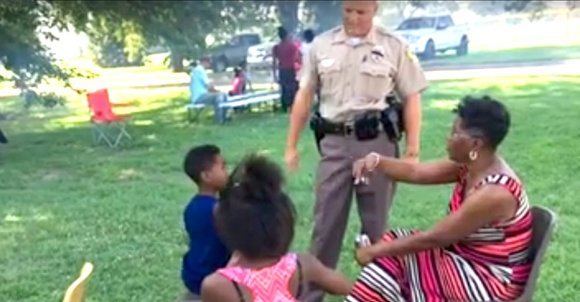 WICHITA, Kan. (AP) – Wichita police hosted a free community cookout to open a dialogue amid racial tensions across the country.
The "First Steps Barbecue" was the latest example of how Wichita is handling those concerns. The event was held Sunday evening at McAdams Park.
After a peaceful Black Lives Matter protest earlier last week – in the wake of the recent fatal police shootings of Alton Sterling in Baton Rouge, Louisiana, and Philando Castile in Falcon Heights, Minnesota – Police Chief Gordon Ramsay met with local activist leaders to discuss replacing another planned protest with the cookout.
"The chief is a Black Lives Matter supporter – people need to hear that," said Djuan Wash, a community organizer with Kansas Appleseed Center for Law and Justice.
Wash said Friday that the barbecue would be an opportunity to have a dialogue and that it was not a celebration.
"This is a time in policing that we haven't been at in a long time, and it calls for a different way of doing things," Ramsay said during a briefing Thursday, explaining that it was an opportunity for police and citizens to interact and have "positive contact, not face-to-face on a skirmish line."
Police officers prepared and served food to attendees. The free event was made possible by community donations sought by Ramsay and Wichita Mayor Jeff Longwell, the city said in a news release.
Hundreds of people marched for about three hours July 12 in a peaceful protest against recent fatal police shootings. No injuries, arrests or property damage were reported.
Wash credited the Wichita Police Department for their handling of the protest, noting law enforcement officers were present but kept mostly out of sight, unlike protests in other cities where police came out in riot gear.
"Black Lives Matter is not saying other lives don't," Wash said. "Black Lives Matter is saying that our lives matter, too. And we finally have a representative in our chief of police who understands."
It will take some legislation and changes in policy to address the issues, Wash said, but no more Black Lives Matter protests are planned for now in Wichita unless they are geared toward federal lawmakers who do nothing to resolve the problems.