Project Under helps homeless survive Texas heat
DENISHA MCKNIGHT | 7/25/2016, 11:46 a.m.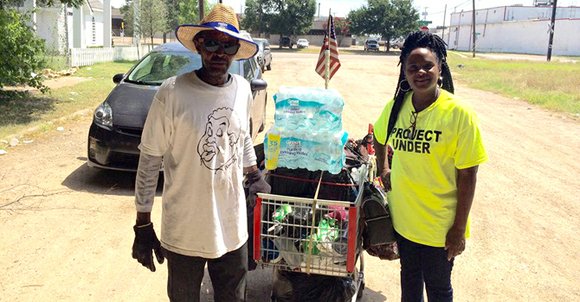 The Dallas Examiner
A vast portion of Dallas' unsheltered population were scattered under a small Downtown Dallas bridge as they sought shade from the relentless Texas heat. Large clusters of worn camping tents were spaced out from street to street. July 2 started as a humid Saturday morning with highs reaching near the triple digits, as a few people were down to their last bottle of water.
As midday heat increased, two cars pulled up to the small tent city. Seven people stepped out of the vehicles wearing radiant yellow shirts with the words "Project Under" in black bold letters printed across the front.
The homeless individuals were hesitant to welcome the newcomers. But as each person slowly peeked their head from their tent, they were instantly greeted with kindness and large packs of water.
Cold stares turned into warm praise from the unsheltered populace as they anxiously queued up near the cars for their complimentary cases of water. Many thanked the group for helping them survive the Texas heat.
"It made us feel like a rescue team," said Dona Gassaway Mitchell, founder of Dona Gassaway Mitchell Production.
As the summer heat continues to burden homeless civilians, Dona and her team are persistent in ensuring the homeless stay hydrated with their first Project Under water drive.
Each summer, over 100 individuals die from heat-related illnesses, including dehydration, according to the Texas Health and Human Services Commission. The older and more economically disadvantaged community in South Dallas is most susceptible to dehydration, according to Parkland's Community Health Assessment report.
Dona says that she and her husband, Rev. James Mitchell, have addressed homelessness in local Dallas communities for 12 years. The project is an initiative devised by Dona and her community service group to help the homeless during the summer season.
Volunteers go to different store locations in the Dallas area in hopes of collecting water donations from local shoppers. The water drive was held at Walmart, located at 200 Short St. People donated up to 3,000 bottles of water and more than 60 cases.
"I'm very happy to help out," said donor Chefita Kunkel. "It could be me out there."
Their goal each drive is to receive up to 100 cases of water to donate to the unsheltered.
Though the water will be used to keep the unsheltered community hydrated, it will also be used for hygiene purposes such as washing their clothes and bodies, according to Dona.
"Each donation provides a blanket of hope for the homeless and shows them how much the people in the community care," James said.
"People need to know that somebody cares and that's what this is all about," he explained.
The relatively new event has received a lot of positive feedback from the Dallas homeless community. James said the many hugs and handshakes he has received from the Dallas homeless population is very uplifting and fuels his passion to help more people.
However, the water drive event does have its challenges, as well as its fair share of criticism. Some people view the water drive as an event that will carry on homelessness, which DGM Production isn't trying to portray, Dona stated.
"We're not trying to prolong or perpetuate homelessness," she insisted. "What we are trying to do is assist them while they're going through this season and keep them hydrated."
As the homeless rate in Dallas increases, Project Under hopes to get the community more involved in a problem that affects the city as a whole.
Once Dallas residents get past their preconceived notions about the homelessness, they will more likely be open to efforts to decrease the unsheltered population, declared Sonja Brown, Project Under water drive volunteer.
"The first thing we have to do is drop the stigmas associated with homeless people and understand that the vast majority of the population is a paycheck away from being homeless themselves," Brown stated. "It could be you."
Dallas citizens don't need to do much to help the homeless; assistance can be as simple as providing can goods to random homeless individuals, James explained.
"Don't wait for someone else to give you the platform to bless somebody," he said. "God has already given it to you."
For information on donation and the next water drive, email dgmblackbox@gmail.com.