Black men: Beyond rapping, athletics
MIKE McGEE | 7/31/2016, 9:24 p.m.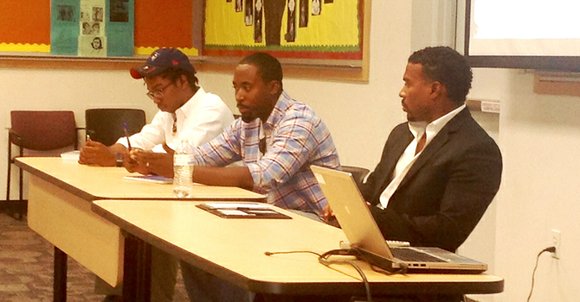 The Dallas Examiner
Young & Successful Black Men: We Are More Than Rappers and Athletes brought activist and author Gregory Smith, entrepreneur Devin Guinn, and educator Taylor Toynes to the Paul Laurence Dunbar Lancaster-Kiest Branch Library on July 16 for a panel discussion on success. During the event Warren Thornton, founder of the Knowledge Saturdays education program, moderated.
As examples of three accomplished and local Black twenty-something males, the speakers – admitted sports fans who enjoyed hip-hop and understood celebrity culture – attempted to present a picture of what life could offer beyond the images of what rappers and pro athletes enjoyed.
The average number of students scouted by the NFL in a given year is 6,500. Their conclusion was that the odds of any high school player making it to the NFL were a slim one in 1,086,627. About three out of 10,000 high school seniors – or 0.03 percent – are drafted into the NBA, according to the data the trio presented.
"I knew I wanted to do things within my community and with people," Toynes, 27, remarked on why he found the education path more realistic, and more rewarding, than that of sports. He considered his time teaching at Zumwalt Middle School and Bushman Elementary as service to his community. He admitted that he didn't steer students away from a sports career; he simply spoke of his choice in an honest way.
"I let them know [that] if you want to do this, there is going to be a work ethic that you have that is going to have to be unmatched at all times. Where you're sleeping in the morning [now], no; if you're not up at five o'clock in the morning running miles, nine times out of 10 you're not going to be into this…"
Toynes' attitude was the same toward students interested in careers involving music. "… I will tell them the other outlets and things they could be doing to better themselves," pointing out that becoming a music teacher could be one option.
Smith acknowledged his NFL dreams diminished once he took a psychology class in college and noted that the experience opened up new gateways of potential for him.
"When I found out that I was interested in something outside of [football] my attitude and my effort toward sports kind of died down." He began to look at his environment in a new way. "It challenged me to wonder… Why do kids think the things that they think or act the way that they act? Like, they're acting that way or doing that thing for a reason."
He suggested that decoding the emotional cause-and-effect that drives youth was more exciting than sports. "We can be talented in a lot of other things if we got people to focus on them."
During the event, the moderator queried the speakers on their view of the progress Black men have made in the United States.
"It depends on how far you go back," Smith offered. "We have made progress… But I don't think we've made enough. There are Black men working. We have a Black president. And all [of] that is fine. We have Black NBA players, Black rappers and that kind of stuff. And all those Black people at the top give back to the youth, but compared to other races and other communities out there in the world, we still got a lot of work to do."