WNBA fines teams, players for displays of social activism
DOUG FEINBERG | 7/31/2016, 9:17 p.m.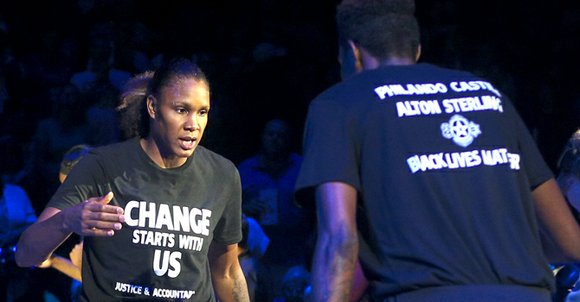 NEW YORK(AP) – Social activism is coming at a cost for some WNBA players.
The WNBA has fined the Indiana Fever, New York Liberty and Phoenix Mercury and their players for wearing black warmup shirts in the wake of recent police-involved shootings of African American men, as well as the recent shootings of police officers.
All three teams were fined $5,000 and each player was fined $500 as the shirts violated the league's uniform policy. While the shirts were the Adidas brand – the official outfitter of the league – WNBA rules state that uniforms may not be altered in any way.
"What's most upsetting is the way it was handled," Indiana Fever player rep Briann January said. "You have a league that is 90 – if not above 90 percent – African American and you have an issue that is directly affecting them and the people they know and you have a league that isn't willing to side with them.
"It's not a race issue, not an anti-police issue, not a Black or White issue. It's a right or wrong issue."
WNBA President Lisa Borders said Wednesday night in a statement to The Associated Press that the fines were not about the players speaking out on a social issue.
"We are proud of WNBA players' engagement and passionate advocacy for nonviolent solutions to difficult social issues, but expect them to comply with the league's uniform guidelines," Borders said.
Nonetheless, Indiana Fever All-Star Tamika Catchings, who is retiring at the end of the season and is the president of the players union, is also disappointed in the WNBA's actions.
"Instead of the league taking a stance with us, where they tell us they appreciate [us] expressing our concerns like they did for Orlando, we're fighting against each other," she said.
The league was quick to give every team member shirts in support of the Orlando tragedy in June, which the players wore.
"We were OK with that, we wanted to support that, but also they can't pick and choose what initiatives to support and what not to support just because it doesn't push their agenda," Liberty guard Tanisha Wright said. "This is important to us."
Typical WNBA fines for technical fouls or such are about half the $500 amount the players were fined for wearing the black shirts. WNBA rookies like New York's Adut Bulgak make roughly $40,000, so the fine is about 1/80th of a first-year players' salary.
The Liberty team has worn the plain black shirts four times, including Wednesday morning against Washington. They didn't wear them Thursday in their matinee game against the Fever, opting for their normal black shirts with the Liberty logo. Tina Charles did wear her warmup shirt inside out.
"After seeing the African American male shot three times after helping an autistic person out this morning in Florida, I knew I couldn't be silent," Charles said after Liberty lost to the Fever. "Knowing the player I am representing this organization, if anybody was going to wear it, it had to be me. I have no problem wearing this shirt inside out for the rest of the season until we are able to have the WNBA support us."