Jeremiah's Classical Journey
Jeremiah Tyson – singing his way to success
MIKE McGEE | 6/3/2016, 12:07 p.m.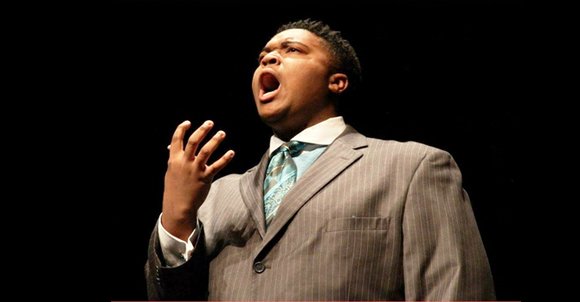 The Dallas Examiner
At 17 years old, Jeremiah Tyson, a recent graduate of the Booker T. Washington High School for the Performing and Visual Arts, represents a musical double rarity: He is a classically trained African American tenor. The aspiring opera singer played Nanki-Poo, the romantic lead in his school's production of The Mikado in May.
"I can't say, like, 'I've always wanted to be an opera singer.' For someone who grew up in the environment that I did – which was the typical, African American environment – opera is not introduced," he acknowledged. "Opera was not introduced to me until I came to Booker T."
Tyson affirmed that he first became attracted to the musical form when he took a class with a vocal technique instructor who sang opera as part of the training and screened opera documentaries to her students.
"I was just captivated by the fortitude of their sound and the strength of their sound," the graduate said, pointing out that opera singers employ the power of their voice for amplification rather than by the use of artificial means such as a microphone.
"It just shocked me. I said, 'I want to do this. I want to know more about this.'"
Tyson traced the development of his vocal presence to his childhood.
"I grew up in the church so singing for God is something that is dear to my heart," he recalled. "Gospel music is also in my heart and it's also something I'm actively a part."
He shared that singing is also a way for him to bring people closer to God.
"I was singing in church at about [age] 7 and the spirit of the Lord fell upon our church, and I started singing and everyone was crying, and it was a beautiful experience."
As a tenor, Tyson sings in one of the highest vocal ranges for male performers.
"His voice matured remarkably early. You don't see tenors with his vocal quality at such an age," claimed Linda Roark-Strummer, one of Tyson's voice coaches. "The tenor voice is kind of an anomaly. You'll find a lot of singers who are tenors but with the qualities that he has, and the potential in his voice, is rare."
As a young aspiring tenor, Tyson looks up to African American tenor Lawrence Brownlee as an operatic role model. Realizing the scarcity of Black men performing in opera, he hopes to inspire other Black young men.
"Not a lot of young, Black, African American males that I've been around get up and say 'I want to sing opera,' especially because many of them have not been exposed to it, especially at a young age" he noted.
"And so I can be able to inspire them to show all people that anything is possible. It doesn't matter where you come from, if you grew up in the middle of nowhere, if you grew up in a metropolitan area city, anything is possible, because when your destiny is your destiny all you have to do is follow it."