Dallas' first Black mayor honored
DIANE XAVIER | 6/16/2016, 9:38 p.m.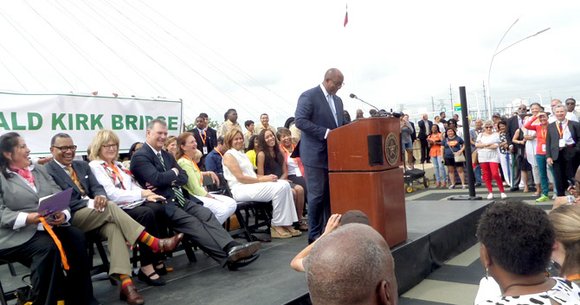 The Dallas Examiner
Known as a bridge builder, city builder and unifier, former city attorney, former mayor and Texas secretary of State, Ambassador Ronald Kirk was honored before a crowd of 300 in front of the Continental Avenue Bridge, which was dedicated in his honor and renamed the Ronald Kirk Pedestrian Bridge on June 4.
Local leaders such as Mayor Mike Rawlings, U.S. Rep. Eddie Bernice Johnson, Texas Rep. Roberto Alonzo and former Dallas Cowboys Roger Staubach attended the event, hosted by the city of Dallas, Trinity Trust and the Trinity Commons Foundation.
Kirk, who served two terms as Dallas' first African American mayor, thanked his family, co-workers, friends and all the people who fought for civil rights for making this day possible.
"There are a lot of people to thank because today does not belong to me," Kirk said. "This honor today is not about me, it's about the journey that so many of our generations took to get here and who made that possible. This bridge is to honor people who like our dear parents and people like the Rev. Zan Wesley Holmes, who fought just as hard as Martin Luther King and Malcolm X and people like our dear friend Eddie Bernice Johnson and all of you who work so hard to make this city and this nation live up to the simple promise that were enshrined in our Constitution that every child should have the right to not be limited to anything but there ability, this bridge is for you and we honor you today."
Kirk is credited with keeping the Dallas Mavericks franchise in Dallas with the building of the American Airlines Center and pushed for the Trinity River Corridor Project.
"For too long in this city, this river may as well have been Dallas' Berlin Wall because it divided our city North and South and East from West, Black and White from Brown," Kirk said. "We struggled for it felt like far too long to make Dallas whole."
Rawlings thanked Kirk for his service to the city and keeping it unified.
"It is right to honor Ron Kirk because yes, he is a bridge builder, but to simply call him a bridge builder simply misunderstands what Ron did for Dallas," Rawlings said. "Ron Kirk is not only a bridge builder, he is a city builder, I have learned over my last time in business and politics that it is hard to build things, especially things that last, it is easy to burn them down. And he led from the front to build this city. To build a new sports arena by bringing together two owners who at times were divided and two parts of this city that were often divided and races that were divided. He built a vision and won elections for the transformation of Dallas. He built Dallas' reputation."
It was philanthropist Mary McDermott Cook who suggested the bridge be named in honor of Kirk.
"This is a people's bridge," Cook said. "This is an asset for this city that we have not had."