Dallas' first Black mayor honored
DIANE XAVIER | 6/16/2016, 9:38 p.m.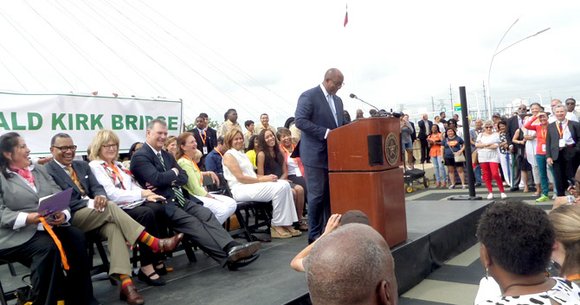 Mary Suhm, former city manager who worked with Kirk, talked about Kirk's attention to detail and how he brought city leaders together.
"There is no one better at consensus building than Ron Kirk," Suhm said.
Kirk also served as the former United States trade representative for President Barack Obama and was sworn in by the U.S. Senate in March 2009. In this role, he was a member of Obama's Cabinet and served as Obama's principal trade advisor, negotiator and spokesperson on trade issues.
"As U.S. trade representative, he showed the world that we are a smarter, more open United States of America by working for President Obama and he did it by building the most important thing, a great family," Rawlings said. "Yes, he is a city builder but we call him a friend. We call him a hero."
Prior to serving as mayor of Dallas in 1995, Kirk worked as Secretary of state under Gov. Ann Richards. Kirk graduated from Austin College in Sherman and earned his law degree from the University of Texas at Austin. He practiced law with the international law firm, Vinson & Elkins LLP. Kirk was recognized as one of "The 50 Most Influential Minority Lawyers in America" by the National Law Journal in 2008.
Kirk reflected on the struggles he and his sister endured.
"And I couldn't help but wonder about Sandra's and I's own upbringing and our siblings in Austin, Texas," he said. "We lived in a segregated city that had its own barriers. I couldn't help but think about how we have erected barriers about our history to some physical, some legal, nonetheless they were barriers put in place to say to some people you can't go there, even though you can see it. From our front yard, I could see the dome of our beautiful State Capitol. You could see the tower of the University of Texas. Because of Jim Crow and others, that was a forbidden land for people of color.
"Every step of my journey, I was covered in prayer by so many family and friends for our safety and it started with my church growing up," Kirk said. "I was blessed that when I expressed I wanted to be mayor, there were a handful of people who embraced me and told me even though they don't know me, they will work with me. They gave me a chance."