Homelessness grows in the United States
GLENN ELLIS | 6/27/2016, 11:22 a.m.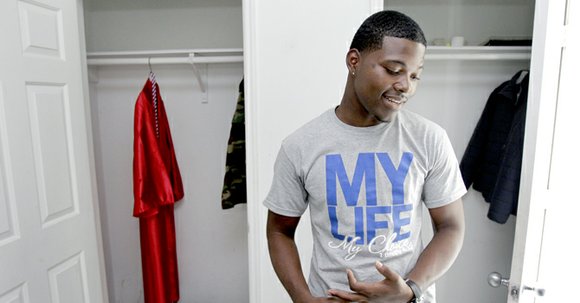 (George Curry Media) – The United States' economy, recently on the brink of collapse, appears to be making a recovery. The poorest families haven't yet seen the benefits of the recovery. The result is an increase of homeless children and adults. According to federal law, homeless children include those who lack a fixed, regular and adequate nighttime residence.
A report, Hidden in Plain Sight: Homeless Students in America's Public Schools by Civic Enterprises with Hart Research Associates, provides insight into how educators, policymakers and community organizations can help more students cope with homelessness, graduate from high school and get on a path to adult success.
Estimates show that nearly 1.4 million children are homeless in this country every year. In the 2011-2012 school year, 1,166,339 homeless children and youth were enrolled in public schools. This is a 71 percent increase since the 2006-2007 school year. The number of homeless children increased in 31 states between 2012 and 2013, with leaps of 10 percent or more in 13 states and Washington, D.C.
These figures are likely low because not all school districts reported data to the U.S. Department of Education, and because the data collected represents only those children identified and enrolled in school. In addition, the number does not include all preschool-age children, or any infants and toddlers.
Ninety percent of homeless families are single-parent families typically headed by the mother. The characteristics of homeless students are similar to other students living in poverty, the difference being that they do not have consistent housing. Homeless students are often on their own by the time they reach secondary school age. Administrators frequently refer to these older homeless students as unaccompanied youth or, more informally, as "couch surfers" or "couch hoppers."
Homeless students sometimes do not get enough to eat and therefore go to school hungry. They may not get enough sleep at night or are afraid to sleep. Many homeless students do not receive adequate medical or dental care and are more likely to have health problems. These youth have higher rates of upper respiratory and ear infections, skin diseases and common cold symptoms than their peers. About 12 percent of homeless children are not enrolled in school and up to 45 percent do not attend school regularly.
The relationships that homeless students have with school staff members may be the only associations they have with people who are living in a productive and positive manner and who can serve as guides for how to live constructive lives.
Of course, homelessness is not limited to students. The number of Americans who are homeless at some point during a year changes constantly as people move in and out of homelessness, sometimes for days at a time, sometimes weeks or months. Poor health can contribute to being homeless, and being homeless can lead to poor health. Limited access to health care can make it worse. That's why the health of homeless people in the United States is worse than that of the general population.