Cooking up a healthy change
MIKE McGEE | 3/4/2016, 4:29 p.m.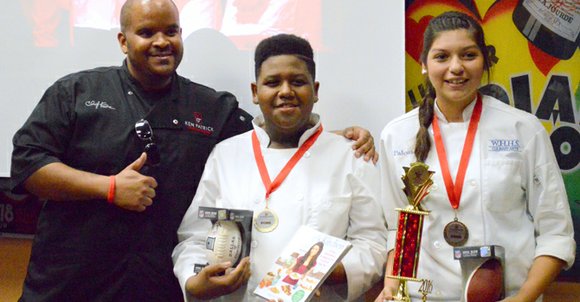 First, second and third place winners were announced in the early evening.
The top team was from Wilmer-Hutchins High School, Jeremy Tezano, Paloma Quiroga and Marlen Hernandez. They received prizes of a trophy, medals, gift cards, copies of the cookbook Chloe's Kitchen, and miniature footballs signed by Dallas Cowboys players Jason Witten and Sean Lee. In addition, their prize-winning healthy meal that consists of a chicken parmesan sandwich on a whole wheat bun, green beans with cherry tomatoes, and banana cream bites will soon be served as a menu item in Dallas ISD's school lunch program.
The team also won the honor of an all-expense trip to the U.S. Capitol where they will meet members of Congress, tour the sights, and compete in the national contest.
"It's actually amazing. Going to D.C., that's an awesome trip," Tezano offered on his team walking away with the trophy.
While the winning team received numerous prizes, there was much to be gained by all of the students who participated in the competition.
"I think one of the big things that we benefit from is that students are exposed to the different challenges and planning menus," Rosenberger voiced. "And when we have recipes that are developed by students for students we see a lot more student acceptability … because we don't want to have cans, we want to have healthy students."
Less wasted food also means less wasted money, she indicated.
"One thing that I see is it shows them another side to the food industry – that there are multiple career paths they could follow," Farris added.
Tezano expressed pride on his big win as he acknowledged that food was an integral part of his future goals.
"I really plan on becoming a chef. I plan on attending the C.I.A. [Culinary Institute of America] in New York," he said. "I plan on being a chef and opening my own restaurant."
The junior added that he took much of his foodie inventiveness from his mother, who is also a chef.
"She kind of inspired me to do what I did today."
He also had kind words about his teacher back home.
"My culinary instructor Adam Bazaldua – he encourages us and motivates us every day to keep going and be better than we were yesterday."
Even though the Wilmer-Hutchins team took home the big prize, the teen admitted the contest's seemingly simple task posed to be a real-world challenge.
"Making a nutritional and healthy meal was not always easy but it was worth it in the end."
Since Tezano is not a graduating senior he is eligible to return for the contest next year.
"Yes," he said simply about entering the contest in 2017, nodding and laughing happily at the thought of another chance to cook up a win, the red ribbon of his medal dangling around his shoulders, his competitive spirit stirred. "Yeah."