An Evening with Zan Holmes, Ron Kirk
DIANE XAVIER | 3/14/2016, 10:45 a.m.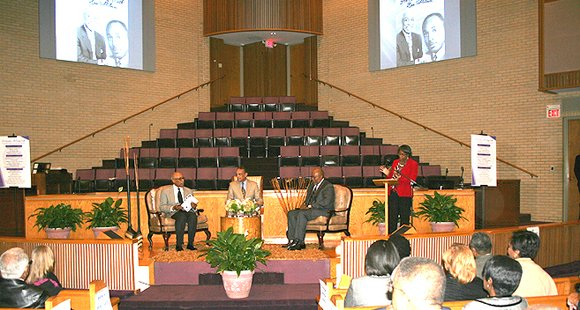 The Dallas Examiner
In this presidential election year, there are many issues that affect local communities, as well as communities statewide and nationally. To discuss these issues and how politics has changed through the years, Saint Luke Community United Methodist Church hosted "In Conversation – An Evening with Dr. Zan Wesley Holmes Jr. and Ambassador Ron Kirk."
The event was held on Feb. 12 and moderated by Bob Ray Sanders, a journalist with the Fort Worth Star-Telegram. Proceeds from the evening benefited the Zan Holmes Jr. Community Outreach Center.
During the conversation, Holmes, pastor emeritus of St. Luke "Community" United Methodist Church, discussed his 50 years in ministry, service and activism while Kirk, former mayor of Dallas and the first African American to serve as the United States Trade Representative and who was a member of President Barack Obama's Cabinet as a trade advisor, discussed his experience in politics.
Both discussed their career-start in the city of Austin and how living there influenced their futures.
Holmes arrived in Austin in 1948 after living in Waco. He graduated cum laude from Huston-Tillotson University in Austin.
"My father was a United Methodist pastor and was assigned as the district superintendent for Austin of the United Methodist Church," Holmes recalled. "That was a painful transition for me leaving Waco and to go to Austin, because my education was interrupted and I had to leave Austin and go to Waco. I was on the football junior varsity team and when I got to Austin, all that was already going on and my ego was too big to join the B team and so I struggled through that."
Kirk was born in Austin.
"That was the year that the Brown vs. Board of Education was decided," Kirk said. "As much as people think that Austin is sort of this more liberal city than Dallas it was still segregated back then and I watched my parents struggle along with a lot of other parents of not being able to vote. My father was the first Black clerk in Austin and my mother taught school. So part of my being involved civically was born out of watching my parents fighting for the right to vote."
Kirk graduated from Austin's John H. Reagan High School and went to Austin College in Sherman.
"People asked me why I didn't go to the University of Texas at Austin," Kirk said. "My sister went to UT and at that time UT was very slow to embrace people of color so I didn't want to go there and just wanted to get away."
Kirk did however get his law degree from the University of Texas School of Law in 1979.
Holmes said he credits his father for becoming the leader that he is today.
"I traveled with my father and he taught me a lot," Holmes said. "I would sit and watch him as he presided over conferences and as he preached. I also got to observe other pastors and leaders of the church as they preached. My father also took me to events when different personalities came in to town. I was greatly influenced by that and many of the people I met in the church and community."