Black Press Week hosts historic summit
STACY M. BROWN | 3/18/2016, 2:39 p.m.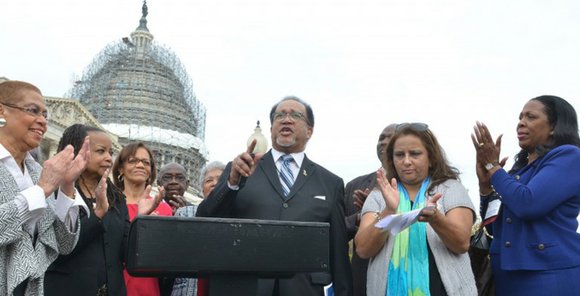 (NNPA) – Publishers and leaders from the National Newspaper Publishers Association, a trade group of more than 200 Black-owned media companies, and the 400-plus member National Association of Hispanic Publications recently held a historic three-day summit in Washington, D.C., that featured an all-star roster of speakers, meetings on Capitol Hill, and the enshrinement of the late Gerri Warren into The Gallery of Distinguished Black Publishers.
"I think we had a very productive week," said NNPA Chair and Washington Informer Publisher Denise Rolark Barnes.
NNPA Foundation Chair Al McFarlane called the meeting between the two minority trade groups historic.
"Our presence here acknowledges a broad and rich historic relationship between African and Latino communities," McFarlane said.
NAHP President Martha Montoya quoted best-selling author Sarah MacLean, who said the best partnerships aren't dependent on a mere common goal, but on a shared path to equality, desire and no small amount of passion.
"That sentiment was very clear to both organizations and this joint event will allow the leadership of the NAHP and the NNPA to engage corporate decision-makers and influential regulatory and political leaders to encourage advertising and financial support for member publications as well as advocate for policies that benefit our communities and members," Montoya said.
NNPA President Dr. Benjamin Chavis reflected on the founding of the NNPA.
The civil rights activist said that 189 years ago in 1827, Freedom's Journal was boldly published in New York and became the first Black-owned newspaper in the United States.
"From the very first publication it was crystal clear that our publishers were both simultaneously prodigious entrepreneurs and courageous freedom fighters," Chavis said.
Rolark Barnes acknowledged that the publishers and business owners of the Black Press in America came together by faith.
"Our journey of faith began with two free men, Samuel E. Cornish and John B. Russwurm, who laid the first stone on the path we follow by publishing the nation's first African American newspaper, Freedom's Journal, on March 16, 1827, in New York," she said. "Their articles, editorials, cartoons, sermons, bios and advertisements included arguments for the abolishment of slavery and the expressed pride in the accomplishment of the African American community."
The week's activities kicked off with an NNPA Foundation Board meeting at the W Hotel that was followed by a special luncheon.
NAHP also kicked off the week with a board meeting at the National Press Club and a chairman's reception hosted by Fusion for both organizations was held at Univision Communications.
On Thursday, March 10, McFarlane, Rolark Barnes and Chavis hosted the Hall of Fame enshrinement at Howard University as the NAHP held an event regarding legislative policy at the Press Club. NAHP scheduled a meeting with Attorney General Loretta Lynch while Chavis reached out to Congresswoman Eleanor Holmes Norton who held a press conference with both organizations on Capitol Hill on Friday to appeal for a study on how much money federal agencies are spending on advertising in the Black and Latino press and to advocate for D.C. statehood.