Black Press Week hosts historic summit
STACY M. BROWN | 3/18/2016, 2:39 p.m.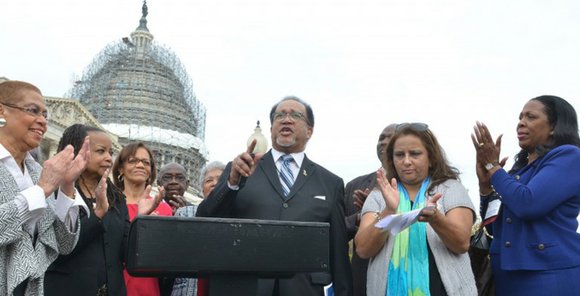 That night, the 2016 Torch Awards honored Dr. Lonnie Bunch, Baltimore City Attorney Marilyn Mosby, Sterling Premier Group CEO Thomas A. Moorehead, retired Maj. Gen.Charles F. Bolden Jr. and CEO of the National Coalition on Black Civic Participation Melanie L. Campbell.
The groups also announced a Get Out to Vote initiative.
"I am proud to join the formation for the first time of a historic alliance of African American and Hispanic publishers," Holmes-Norton said. "You are the most trusted source of news in our communities."
Her comments echoed the words of Virginia Democratic Sen. Tim Kaine, who served as keynote speaker at the joint NNPA/NAHP luncheon on Thursday at the National Press Club.
"I want to say a word about your role and why your role is so important," Kaine said. "I've been looking forward to coming to this historic meeting of the NNPA and the NAHP together. You have the trust of your readers at a time when people don't trust the media. That is a precious commodity."
Tasha Boone, the program manager for the 2020 Census Integrated Partnership and Communications Program; Dr. Ashitey Trebi-Ollennu, a group leader and robotics engineer at the NASA-Jet Propulsion Laboratory at the California Institute of Technology; Fernando Hernandez, director for Microsoft Supplier Diversity; Dr. J. Nadine Gracia, the deputy assistant secretary for Minority Health and the director of the Office of Minority Health at the U.S. Department of Health and Human Services; and Dr. Thomas Mensah, one of four inventors and innovators of fiber optics at Sullivan Park Research Center at Corning Inc., were among those on the schedule.
In keeping with one of its premier missions of highlighting youth, the NNPA also featured a program on Friday that included the SpelBots, Spelman College's robotics team, which encourages students and young women of color to explore robotics and computer science.
"It was one of the more impressive things I've seen," said Rolark Barnes as she talked about the students at the NNPA event dedicated to science, technology, engineering and math.
Chavis noted that today's Black-owned and Hispanic-owned media companies exist during a propitious time in the publishing industry.
"Innovation and the use of technology will continue to be key components of strategic plans for the next decade as NNPA strives to financially sustain its media and publishing businesses," he said.
"Yet, we know for certain that the profitability of our businesses is also directly linked to the overall improvement of the quality of life in the communities that we serve and represent," he said.
"We are committed to working to address the critical issues and challenges that confront the industry at-large, as well as to ensure that equity of consideration is given to our member publishers in advertisements, media buys, partnerships, sponsorships and other business opportunities."