Did Republicans trick Obama?
Filling the Supreme Court vacancy
GEORGE E. CURRY | 3/25/2016, 11:22 a.m.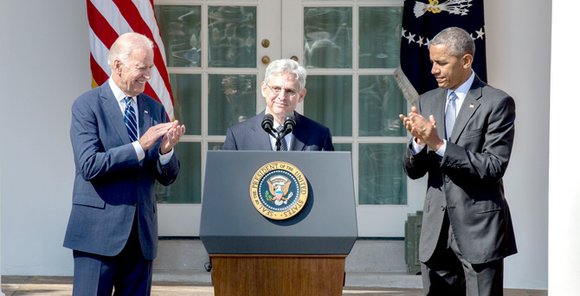 WASHINGTON (George Curry Media) – President Obama's decision to nominate U.S. Appeals Court for the District of Columbia Circuit Chief Judge Merrick B. Garland on Wednesday to succeed the late Antonin Scalia on the U.S. Supreme Court was immediately rejected by Republican leaders who are declining to hold confirmation hearings on any Obama nominee to the court during his final year in office.
In a rare move, Senate Majority Leader Mitch McConnell, R-Ky., has declined a courtesy meeting with Garland.
"Rather than put Judge Garland through more unnecessary political routines orchestrated by the White House, the leader decided it would be more considerate of the nominee's time to speak with him today by phone," McConnell's spokesman, Don Stewart, said in a statement issued March 16.
"The leader reiterated his position that the American people will have a voice in this vacancy and that the Senate will appropriately revisit the matter when it considers the qualifications of the person the next president nominates. And since the Senate will not be acting on this nomination, he would not be holding a perfunctory meeting, but he wished Judge Garland well."
Senate Judiciary Committee Chairman Charles E. Grassley, R-Iowa, not mentioning Garland by name, said, "A majority of the Senate has decided to fulfill its constitutional role of advice and consent by withholding support for the nomination during a presidential election year, with millions of votes having been cast in highly charged contests."
During this period of heightened political partisanship, the replacement of arch-conservative Scalia on the court, which could alter its conservative 5-4 edge, has received increased attention. It is an issue on the presidential campaign trail, both among Democrats and Republicans, and all sides recognize the appointment could profoundly affect generations of Americans. Moreover, the next president could get as many as three more appointments to the court because of aging justices.
Obama's decision to nominate a compromise candidate – one not as liberal as the previous frontrunner, fellow appeals Judge Sri Srinivansan, and one who at 63 is older than most recent appointees, limiting the time Garland will spend on the court, if confirmed – left Obama in a familiar position. In an effort to reach out to Republicans, Obama typically offers a compromise even before negotiations begin in earnest, hoping to reach a deal.
Instead, once Obama's position is made public, Republicans quickly and uniformly reject his proposal, leaving him with a watered down proposition stalled on his desk. It is a pattern that has dogged Obama throughout his presidency.
Many Democratic activists had recommended against nominating a centrist judge such as Garland, preferring that the president draw a line in the sand. For example, if Obama had appointed a Black woman who was then denied a Senate confirmation vote, that would undoubtedly galvanize Black voters, who are key to any prospect of a Democratic White House victory in November.
"The fact that he would once again look over Black women for this specific appointment is an absolute slap in the face to his top supporters," Avis A. Jones-DeWeever, founder of the Exceptional Leadership Institute for Women, told the Associated Press. "I'm not motivated to lift one finger to get this nomination through."