Did Republicans trick Obama?
Filling the Supreme Court vacancy
GEORGE E. CURRY | 3/25/2016, 11:22 a.m.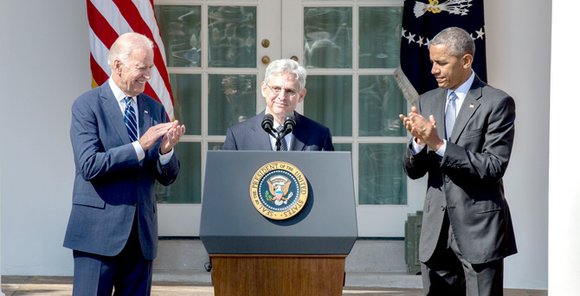 Boldly nominating a Black woman to the Supreme Court does not fit the style of "no-drama Obama," as he is often called, and the president took pains Wednesday to point out how carefully he had picked someone who should appeal to Republicans, most of whom have opposed any major initiative during his first seven years in office.
"To suggest that someone as qualified and respected as Merrick Garland doesn't even deserve a hearing, let alone an up or down vote, to join an institution as important as our Supreme Court, when two-thirds of Americans believe otherwise – that would be unprecedented," he said. "To suggest that someone who has served his country with honor and dignity, with a distinguished track record of delivering justice for the American people, might be treated, as one Republican leader stated, as a political 'piñata' – that can't be right.
"Tomorrow, Judge Garland will travel to the Hill to begin meeting with senators, one-on-one. I simply ask Republicans in the Senate to give him a fair hearing, and then an up or down vote. If you don't, then it will not only be an abdication of the Senate's constitutional duty, it will indicate a process for nominating and confirming judges that is beyond repair. It will mean everything is subject to the most partisan of politics – everything. It will provoke an endless cycle of more tit-for-tat, and make it increasingly impossible for any president, Democrat or Republican, to carry out their constitutional function. The reputation of the Supreme Court will inevitably suffer. Faith in our justice system will inevitably suffer. Our democracy will ultimately suffer, as well."
But politics remain clearly on display, despite Obama's plea for fairness.
Former Judiciary Chairman Orrin Hatch, R-Utah, who had been effusive in his praise of Garland when he was first appointed to the bench, is opposing Garland and any other nominee to the court during Obama's final 11 months in office.
In 1997, Hatch said, "Merrick B. Garland is highly qualified to sit on the D.C. circuit. His intelligence and his scholarship cannot be questioned … His legal experience is equally impressive … Accordingly, I believe Mr. Garland is a fine nominee. I know him personally, I know of his integrity, I know of his legal ability, I know of his honesty, I know of his acumen, and he belongs on the court."
As late as this week, Hatch said, "The president told me several times he's going to name a moderate [to fill the court vacancy], but I don't believe him. [Obama] could easily name Merrick Garland, who is a fine man. He probably won't do that because this appointment is about the election. So I'm pretty sure he'll name someone the [liberal Democratic base] wants."
But when Obama, true to his word, nominated Garland, Hatch refused to cooperate.
"I think highly of Judge Garland. But his nomination doesn't in any way change current circumstances," Hatch said. "I remain convinced that the best way for the Senate to do its job is to conduct the confirmation process after this toxic presidential election season is over."