Celebration of praise, Negro spirituals
MIKE McGEE | 5/2/2016, 11:07 a.m.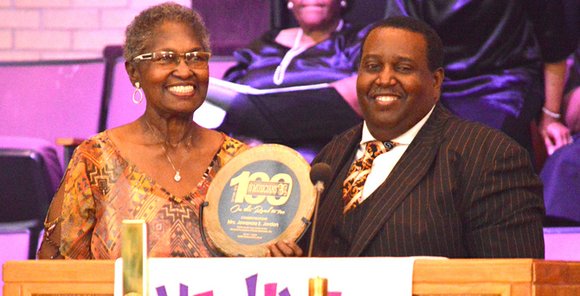 The Dallas Examiner
"We are here today to celebrate the Negro spirituals and recognize the musical legacy of Miss Jowanda E. Jordan," announced Monya Logan, minister of Worship and Arts at St. Luke "Community" United Methodist Church, as she raised her voice in welcoming the audience to the Jowanda E. Jordan Festival of Negro Spirituals. The free affair, presented by the Dallas Metroplex Musicians Association, was held at the church April 9.
The DMMA promotes the achievements of African Americans in the field of music and nurtures the next generation of musicians. Its major principle is to "establish a tradition for the performance and the preservation of the Negro spiritual that is inherent to the African American experience," according to the group.
Several choirs from across the state as well as Louisiana joined in a vocal celebration of the distinctly American form of sacred music that sprouted from the institution of slavery.
"Thank you Miss Jordan, for your tireless work in celebrating today," Logan continued.
"I just don't know what to say," remarked Jordan, the music teacher who created the event, as she was called to the pulpit for recognition by National Association of Negro Musicians Inc. president Byron J. Smith. "I really want to mention how much – the DMMA – how appreciated they are."
Jordan was presented with a plaque and a dozen roses.
"The main thing is, they give me my flowers while I'm still here …" her remark generated laughter from the crowd.
Jordan's connection to the DMMA is strong. The educator is currently serving the Bethany Missionary Baptist Church. She once taught music in Dallas ISD for 34 years, worked with TBAAL on their Dr. Martin Luther King Jr. celebration concert, Music and the Civil Rights Movement, and is a charter member of the Dallas branch of NANM. She also conceived and launched the day's event more than two decades ago as the Kwei-Kwei Music Festival.
Jordan rallied support from the DMMA in the summer of 1992 for the Dallas NANM to host a choral music festival, according to program notes. The Kwei-Kwei Music Festival, eventually renamed the Kwei-Kwei Festival of Hymns, got its name from a trip the teacher took to Kwanzafest at Lincoln High School later that fall. An African vendor informed her that "kwei-kwei" was a phrase from an Africa language that meant, "sing a song."
"It's a pleasure to be here in Dallas, a place where great music takes place every Sunday …" Smith said as he addressed the attendees. "Great music is taking place in the schools. Great music takes place every single day, but what's most important, the Negro spiritual has been kept alive through events like this."
This year's celebration marked the transition of the festival's original title into the event now named for Jordan.
To mark the occasion there was a name-change ceremony, directed by choral music teacher Billie Kerl Roberts
"We are here this afternoon because the scripture tells us where there is no vision the people perish. I would also like to say, where would we be without our spirituals?" she pondered before starting the ceremony. "Where would we be if we couldn't hear nobody pray? Where would we be if my soul had been exit in the Lord?"