Art through the eye of the collector
JESSICA NGBOR | 5/8/2016, 8:56 a.m.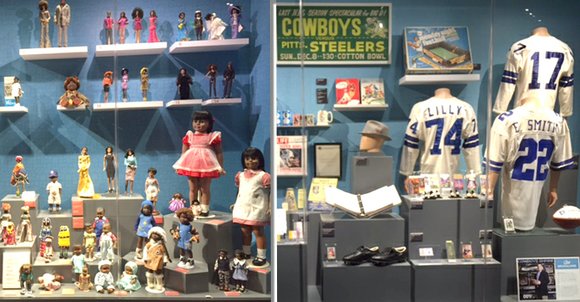 The Dallas Examiner
During exclusive viewings of the Eye of the Collection Exhibit on April 14 and April 15 at the Perot Museum, Highland Capital Management presented its self-curated exhibit, which featured a variety of items ranging from historic to crafty-memorabilia pieces collected by nine unique people.
"We are going to explore portals in the past, the window into why we as human beings and museums, why we collect what we do. Why we bring things into the public trust. We are memorized from everything from whimsy to true deep artifacts that take us on time travels and passages through millions of years, thousands of years and a journey that just cannot be beat." said Colleen Walker, Eugene McDermott chief executive officer of the Perot Museum.
African American dolls collected by Debbie Garrett were part of the diverse variety of collections featured in the exhibit. Garrett, an author and historian with an affinity for African American and Black dolls, got the idea to start the collection in the 1970s after having her daughter. She has over 1,000 dolls in her collection. Her oldest dolls were handmade male and female silk and cotton cloth dolls, circa 1870. She has written three books on collecting African American dolls, including The Doll Blogs: When Dolls Speak, I Listen, dedicated to dolls that talk.
Before viewing, Walker asked various questions to the presenting collectors, such as: Why they started collecting, what type of impact they hope to have, and which were their favorite pieces.?
Garrett was not in attendance, however, other personal collectors were available to answer questions and show off their displays.
America's team was well represented by Bob Bragalone, owner of the largest ever collection of Dallas Cowboys memorabilia. He has been a big fan since they won their first Super Bowl in 1972. His collection ranges from the great Tom Landry's fedora to Super Bowl rings, jerseys and bobble heads. The collection he presented only represents 10 percent of his actual collection. He explained how he chooses pieces for his shrine.
"A lot of times it's objects tied to great games – like Super Bowls, tied to great players – like Hall of Famers or just simply tied to the past. If you look at my giant show-and-tell box next door, you will see that I have some old vintage bus signs from 1964, advertising the upcoming game. These were trash in 1964, but yet they survived," he said.
"As a kid in the 70s I fell in love with the Cowboys; that was my passion. The way to forge a connection with the team was to collect the team. Then as an adult years later looking back at it, the connection that became the collection serves as a portal back through time to get to relive all these great childhood memories."
Anita Martinez is a fifth-generation Texan and in 1969 she became the first Hispanic elected as a Dallas City Council member. She is very active in the community and dedicated to educating people about Mexican culture with dance, music and history. In her collection she has traditional ballet folklorico dresses.
"Our Children need to be educated on how rich this culture is and share it with others. I found it in my service across the city that our kids with Mexican-American heritage held themselves back, so I wanted to do something that would inspire them, so that's why I started the collection," Martinez said. "I hope the collection has a long legacy after I'm gone."
As you enter the exhibit, the Nancy and Randy Best collection is the centerpiece of the exhibit. The couple started their journey of collections more than 40 years ago after a honeymoon trip to China where they fell in love with a porcelain oil jug. Their collection is a walk through history and features fossils, art and ancient artifacts from countries like Peru, Brazil, Egypt and many more.
"I have a love of history. This is a physical connection with times passed, people that lived thousands of years ago. It's just a connection that makes the past come to life," Randy Best explained.