Blair Underwood honored during TBAAL gala
MIKE McGEE | 5/8/2016, 8:59 a.m.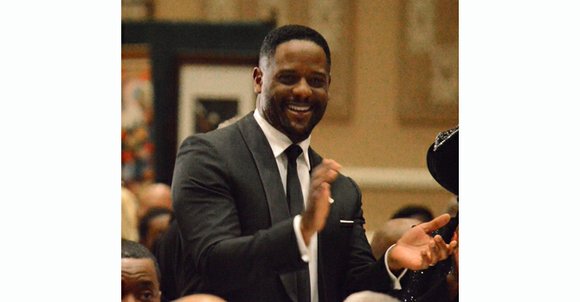 The Dallas Examiner
"Brother Underwood, supporter of the Black Academy and friend, you have no idea how much we love and appreciate you for the work that you have done," gushed Curtis King, founder and president of The Black Academy of Arts and Letters, as he honored Blair Underwood during the TBAAL Ties and Tux Gala dinner held in the Hilton Anatole April 23.
The actor, producer, Grammy winner, two-time Golden Globe nominee and seven-time NAACP Image Award winner was recognized with the organization's Luminary Arts Award for his accomplishments in a career that has spanned more than 30 years, according to a statement from TBAAL.
"I know some of you had the opportunity to speak with Mr. Underwood earlier and I'm thinking, when you sat there and you said 'Hello,' did you think 'Okay, was it Krush Groove I saw him in first?'" joked Steve Pickett, CBS 11 journalist and host for the evening, as he addressed the audience inside the hotel ballroom. "'Was it L.A. Law?'"
The honoree first gained prominence in the 1980s for both as well as multiple appearances on The Cosby Show. Other television credits on his lengthy resume include Marvel's Agents of S.H.I.E.L.D., The New Adventures of Old Christine, Sex in the City, In Treatment and the made-for-cable movie The Trip to Bountiful.
Highlights from Underwood's numerous film appearances include Just Cause, Set It Off, Soul of the Game, Deep Impact and Medea's Family Reunion.
"You think about the body of work that this young man … has accomplished just before our eyes [it] is a testament to what this organization does every single day," Pickett offered.
The gala itself was established in 2013 to support the TBAAL Youth Arts-and-Education Programs, according to the host.
"And specifically, folks, we're talking about empowering young people," he affirmed.
That statement was a sentiment Underwood supported as he spoke about the importance of artistic organizations like TBAAL in mentoring artistic youth who are in the first phase of their careers.
"I started in the theater in Richmond, Virginia, in music theater and in dinner theater, when I was in high school," the actor stated. "So if you ask me, I think the work actors and artists do on the boards in the theater is critical."
He also touched briefly upon cultural changes in the arts that have been brought about by the Internet, video games and the growing emphasis on computer generated images.
"If you want to be a craftsman in the theater – and a lot of people don't … a lot of people want to do film and television, and you can just CGI special effects [in], that's a whole other thing," he said. "But I don't think we're at a place now where it replaces the heart and soul of actors on stage or onscreen."
Pickett also had kind words for King and informed the audience about an experience he witnessed born directly from the founder's activism.
"… Two weeks ago, our news crew, we go down to your office," he said as he referenced King, seated at the head table. "We see children of every hue; teenagers, having a meaningful conversation about the things that we report on; race and dynamics, and culture, and who can say this and who can't say that, [and] who are you going to vote for. Those young people were soaking it in because [King] made a platform for them to do so. And it was amazing to watch because the grown folks said 'Well, they can have a civil discussion on things they may disagree with.' That's what TBAAL is all about."