Legendary civil rights activist shares stories, experiences
REBECCA WALTER | 5/9/2016, 8:51 a.m.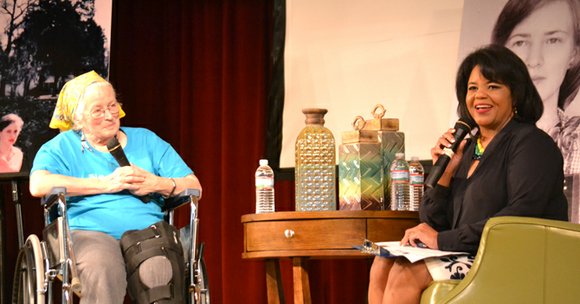 Kentucky New Era
HOPKINSVILLE, Ky. (AP) – Joan Trumpauer Mulholland experienced it all as an activist in the early 1960s. She was shot at and cursed, hunted by the Ku Klux Klan and disowned by her family.
Seen as heroes in their own right, the stories of Mulholland and former Gov. Ned Breathitt gave a glimpse into the past on April 28 at Hopkinsville Community College as part of the inaugural Breathitt Lecture Series.
Mulholland, who describes herself as ordinary, appears as anything but through her story as a Freedom Rider and civil rights activist. She was the guest lecture for the series.
She spoke to students at a session earlier on April 28 and again at another event later in the night while being interviewed by Kentucky Education Television's Renee Shaw.
Mulholland's portion of the event started with an abbreviated version of the movie about her life, An Ordinary Hero.
The film highlighted the more than three dozen sit-ins and protests she was a part of, along with her stint in prison for her actions.
Photos on stage showed her covered in filth as she sat at a lunch counter in protest, showed her with Martin Luther King Jr. and included her mug shot from 1961, where Mulholland has a slight, sly smile and a twinkle in her eye.
During the movie and her speech, tears ran down the cheeks of several audience members upon hearing the story of a woman who faced death and utter ridicule as she fought for "what was right."
Mulholland was there for the legendary March on Washington in 1963, can recall how she felt when four young girls died in the 16th Street Church Bombing in Birmingham, Alabama, the same year. She can still feel the pain she remembers after hearing of the death of Medgar Evers, a key member of the NAACP.
The pain from that June 1963 night in Jackson, Mississippi, sticks out in her mind and so does the day she placed a button in support of President Barack Obama on Evers' grave in 2008, after he became the first African American President of the United States.
"It was then I could rejoice about Obama's election," Mulholland said. "We never could have dreamed about it before that. It was beyond our wildest dreams."
Shaw, an African American who said Mulholland gave her the path she now walks today, asked questions ranging from how Mulholland came around to her beliefs to her relationship with Anne Braden, a White woman and civil rights activist from Kentucky.
Shaw also inquired about the racial divide that exists today in areas such as education, health care and the judicial system.
"It is all interconnected," Mulholland said. "And with the way society has evolved, we see that now more clearly."
Her answers made connections between the Civil Rights Movement and current social issues, and she even brought up the Black Lives Matter movement.
Her main involvement with civil rights now comes through speaking engagements, particularly to young people.