Healing a community: Police shootings and racial tension
DIANE XAVIER | 5/13/2016, 7:36 p.m.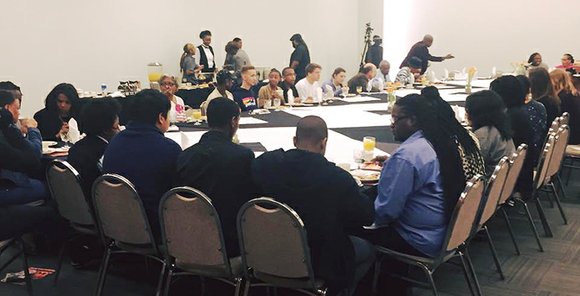 The Dallas Examiner
Over 35 students of diverse backgrounds from across the DFW Metroplex have gathered on Saturday mornings to discuss issues dealing with race relations, police shootings, sexuality, gender and politics, since the year began.
Moderated by TBAAL President Curtis King, the discussions have been part of the Spring Dialogue series at The Black Academy of Arts and Letters.
On April 2, the students participated in a roundtable writer's breakfast with local judges Maryellen Hicks, Dennise Garcia and Carl Ginsberg to have a conversation about "Race in America – The Law and Political Conflict of Community and Police Shootings" and answer the question: How do we overcome racial tension in America and find healing?
The judges discussed America's race relations, the law, politics and historical statistics related to the repeated shootings and killings of Black males in America.
"As an African American woman and a product of segregation, my perspective is totally different because I have been a woman of color," Hicks said. "Race in America we need to talk about because racism still exists in the U.S. and throughout this world. We will never solve it."
She went on to say that 37 percent of unarmed young men and women who were killed by police last year were Black despite being only 12 percent of the population.
"That is a problem in the criminal justice system," Hicks said. "For me, the criminal justice system is broken and it needs to be fixed. In Tarrant County, we have four judges of color at district and county level who have forgotten where they came from. There is a problem of police in our country with the way they treat young Black men. The criminal justice system is just us Black and Brown and poor Whites, and Black folks get the worst treatment than anybody."
The first thing society needs to do is acknowledge that there is a problem, according to Ginsberg.
"The first problem is that we have some bad apples in uniform that are violating civil and human rights," he said. "Second, this misconduct is mostly on ethnic and sometimes on religious racial minorities. Specific communities need to acknowledge it but we are getting there slowly. Also, law enforcement has to acknowledge that there is a problem and be part of the solution. Historically, not all officers are bad people, it is a minority of officers that are creating this problem but it is a big problem."
Hicks attributes the mistrust of police in the Black community to slavery.
"It goes back to the days of slavery and people tell me that I focus on that too much and I talk about that too much but when we ran away to freedom on the Underground Railroad, the people had their mistrust with the police in the Black community," Hicks said. "I advocate that police who work in the city of Dallas ought to live in the city of Dallas. You need to live in the city that pays your salary, you need to go to church there and buy your groceries there, you need to be part of the community."