Remembering Afeni Shakur: Businesswoman, activist and mother of rapper Tupac Shakur
KRISTIN J. BENDER | 5/13/2016, 7:33 p.m.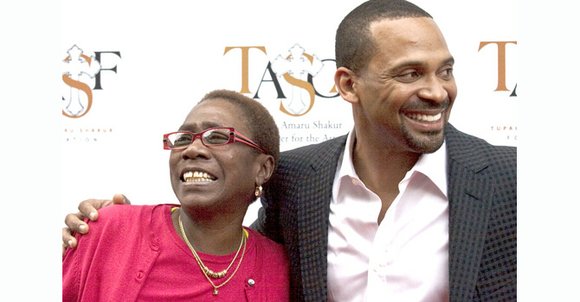 SAN FRANCISCO (AP) – Afeni Shakur, activist and former Black Panther who inspired the work of her son, rap icon Tupac Shakur, and fostered his legacy for decades after he was slain, has died of an apparent heart attack, authorities said May 3. She was 69.
Responding to a 911 call to Shakur's home in Sausalito Monday night, deputies and firefighters performed CPR, rushed her to a hospital and tried to revive her for about an hour, but "she had in fact died from what is believed to be some kind of cardiac event,'' Marin County Sheriff's Lt. Doug Pittman said.
A statement from her family and the Tupac Shakur estate, Amaru Entertainment, mourned her loss.
"Afeni embodied strength, resilience, wisdom and love. She was a pioneer for social change and was committed to building a more peaceful world," it read in part. "Her spirit will forever inspire all of those who had the honor and privilege of knowing her."
The statement also included, "You always was a black queen, mama," a quote from Dear Mama, the classic hit her son wrote about her.

Born Alice Faye Williams in North Carolina, she changed her name in her late teens to Afeni Shakur – a Yoruba term for "lover of people" – when she became politically active in the 1960s and joined the Black Panther movement. By 1971, she was pregnant and behind bars, along with husband Lumumba Abul Shakur and 19 other Black Panthers accused of several counts of conspiring to bomb New York City landmarks. It was known as the Panther 21 trial.
She said the charges were brought after the Panthers took over a school to make a point about continuing to educate children during a teacher's strike in 1968.
Recalling the case years later, she said they were accused of conspiring to commit murder and arson, to blow up the Bronx Botanical Garden and the Abercrombie & Fitch and Macy's department stores, and even police stations. All the charges were ultimately dismissed, and her son, Lesane Parish Crooks was born soon after she left jail.
She later named him Tupac Amaru, after the last Incan emperor, who led a rebellion and refused to surrender to Spanish conquistadors.
Afeni Shakur moved from New York City to Baltimore to California. She became addicted to drugs and struggled through poverty and being a single mother. Still, she managed to enroll Tupac in arts schools and other programs where he honed the musical and acting skills that would make him a hip-hop icon.
"Arts can save children, no matter what's going on in their homes," she stated in a 2005 interview. "I wasn't available to do the right things for my son. If not for the arts, my child would've been lost."
But the activist left a deep impression on her son, helping to shape a world view that later made him stand out among other young rappers, with songs reflecting his own militant attitude toward racism, poverty, violence and other social problems.