Remembering Afeni Shakur: Businesswoman, activist and mother of rapper Tupac Shakur
KRISTIN J. BENDER | 5/13/2016, 7:33 p.m.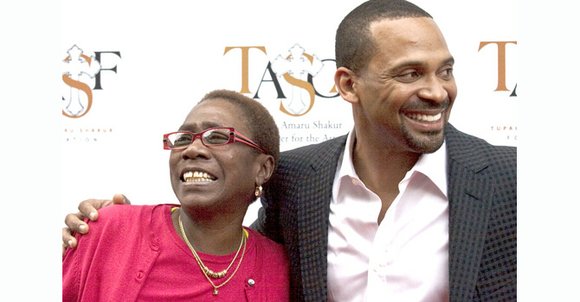 Tupac, in turn, revered his mother, praising her in his 1995 elegy, Dear Mama, a hit song of many fans.
"There's no way I can pay you back. But the plan is to show you that I understand. You are appreciated," he said, rapping about the sacrifices she made for him and his sister, Sekyiwa Shakur. Tupac Shakur died in a still-unsolved drive-by shooting in 1996, at age 25. Conspiracies about his killers flourished. His mother considered it a waste of time to dwell on the conspiracy theories.
"We decided to deal with the living. This is justice for me," she said in 2005. "I need to do what God has put in front of me to do, and it ain't trying to figure out who killed Tupac."
For the last two decades of her life, as a businesswoman and advocate, Afeni Shakur focused on keeping her son's legacy alive while managing his musical catalog.
She opened the Tupac Amaru Shakur Center for the Arts in Georgia – a project focused on helping at-risk youth that is now defunct.
Later, Makaveli Branded, the official clothing label of Tupac Shakur, launched with images of the rapper as part of the apparel's design. A portion of the profits were used to fund the center.
She also co-produced a Broadway musical, Holler If Ya Hear Me,'' that used his songs – including Me Against the World, California Love and Keep Ya Head Up – to tell an original story by Todd Kreidler about two young men dealing with life and tragedy in a Midwestern industrial city. It closed quickly in 2014 after playing just 38 performances.
And she served as executive producer on a film about Tupac Shakur's life, All Eyez on Me with Demetrius Shipp Jr., playing her son, which is set to be released in the fall.
Seven years ago, she donated a collection of her son's writings, including rough drafts of lyrics and poems and a photocopy of his contract with Suge Knight and Death Row Records, to the Robert W. Woodruff Library at Atlanta University Center.
"We need to read history from the source," she said. "It gives people the opportunity to judge him objectively. What we want to do is educate."
Robyn H. Jimenez/The Dallas Examiner contributed to this report.