Don't send Flint residents down the drain
JESSE L. JACKSON SR. | 5/16/2016, 8 a.m.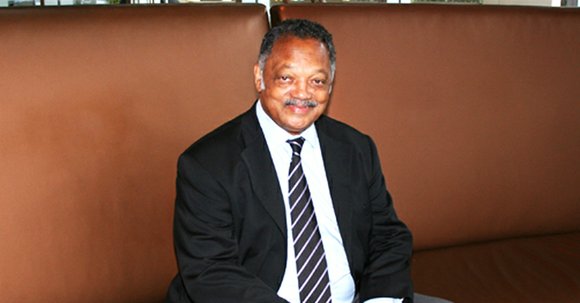 (George Curry Media) – The Flint water crisis is now two years old – and the water still isn't safe to drink. There have been civil and criminal investigations, two congressional hearings and extensive reporting, particularly during the presidential primary in Michigan. Gov. Rick Snyder appointed a special task force. Yet, only 33 pipes – three of every thousand –have been replaced.
In April, the Obama administration's limited declaration of emergency was extended for four more months, but the administration made it clear no further extensions will be granted. State emergency resources will end at the same time. Residents still depend on bottled water and filters, and they won't be supplied beyond August. Now residents are not only suffering from the lead poisoning but from depression and anxiety driven by an agony that seems will never end.
Melissa Mays, one of the mothers who forced the exposure of the poisoned water, appeared on my radio show recently. She is sick and tired of being sick and tired.
At a demonstration protesting the two-year anniversary of the crisis, she said, "Flint wasn't a community that was worth going out on a limb for.
"So, our job is to prove them wrong. Our job is to show them we are not going sit down and take this anymore. And you know what, I have been peaceful. I have tried to fight this in the courts, in the labs doing all the things to prove that the water was poisoned. We got that proof. The water is poisoned. And two years later, it is getting worse.
"I watched my 13-year-old son damn near pass out today from blood tests looking for bacteria and immune disorders. He's 13. So, I am reaching my breaking point. I'm tired of being peaceful. I'm tired of being nice. They're not listening."
The city has gone back on water drawn from Lake Huron, as opposed to the toxic Flint River. But in mid-April, Professor Marc Edwards and the Flint Water Study team at Virginia Tech, the courageous team that helped expose the poisoning, reported that new testing shows Flint's water remains unsafe to drink.
The Flint crisis has led to the exposure of leaded water and aged pipes in other communities in America. But it is clear that Flint paid the price of being poor and largely Black.
The governor's own task force concluded: "Flint residents, who are majority Black or African American and among the most impoverished of any metropolitan area in the United States, did not enjoy the same degree of protection from environmental and health hazards as that provided to other communities. Moreover, by virtue of their being subject to emergency management, Flint residents were not provided equal access to, and meaningful involvement in, the government decision-making process."
Now the Michigan Civil Rights Commission is holding its first hearings on the role that discrimination played in the crisis. Some indictments have come down, but the problem isn't being solved.
Snyder couldn't find funds in the state to replace the lead pipes exposed by the toxic water. Yet he's allocated $1.2 million of state funds to pay private attorneys for his criminal defense fund.