Around the State
Special to The Dallas Examiner | 5/19/2016, 10:50 a.m.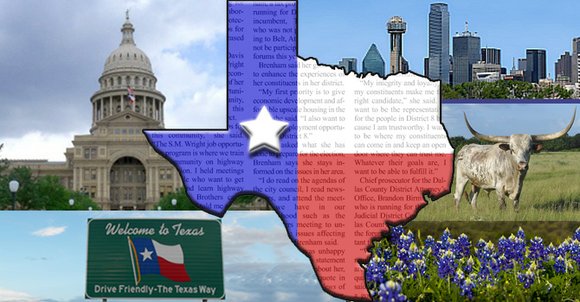 Special to The Dallas Examiner
DALLAS
The Martin Luther King Jr. Learning Center is seeking professionals to help for career day on May 16 and May 17 from 9 a.m. to 2 p.m.
Careers on Wheels will be held on Monday for pre-K through second grade students. The event will focus on moving careers or careers with vehicles. Volunteers can bring their company vehicle and showcase their career.
A traditional career day will be held for students in grades three through five with presenters throughout the building.
Light refreshments will be provided to presenters. Anyone interested in volunteering should contact Tiphanie Paige at 972-502-8114.
DALLAS
The Black Academy of Arts and Letters is accepting new play transcripts for its 40th anniversary Playwright Spotlight Series.
The opportunity will provide writers a chance to have their play performed in front of an audience, get their name out to the public and to hear valuable feedback to help take their work to the next level. Selected playwrights will receive travel, hotel and ground transportation to participate in the reading's Talk Back.
Guidelines are as follows:
• Work must speak to the African, African American and/or Caribbean experience.
• Only unproduced works will be accepted.
• Legal clearance of all materials not in public domain.
• No adaptations, musicals or children's plays.
• Full-length play – preferred length is between 60 to 120 minutes.
• No character limit.
• One play per playwright will be accepted.
All scripts should be bound in a three-ring binder. The cover sheet must included the title, author's name, address, telephone number and email address, a 100-word synopsis of the play, a character breakdown and the playwright's bio/resume. All plays chosen will be contacted via email by May 30. Submitted scripts will not be returned.
Play scripts can be mailed to The Black Academy of Arts and Letters, Attn: Playwright Spotlight Submissions, 650 S. Griffin St, Dallas, TX 75202 by May 10.
DALLAS
The Black Academy of Arts and Letters will hold its 32nd annual Summer Youth Arts Institute. The program is an accelerated three-week intense training session designed specifically for fifth through 12th grade students, ages 10 to 18. During the program, youth will be trained and exposed to music, dance, theatre, stage management, lighting, costume, photography, film/video, sound and make-up. The program will culminate with a summer musical theatre production, Tina: The Musical. All classes will be held at TBAAL, located in the heart of Downtown Dallas in the Dallas Convention Center Theater Complex, at 1309 Canton St.
To attend, parents must fill out an application and return by email to audiencedevelopment@tbaal.org, fax to 214-743-2451, mail to 650 S. Griffin St, Dallas, TX 75202, or bring in person. All Dallas ISD students will receive a full Summer Arts Enrichment Scholarship by submitting their Dallas ISD identification number with their application. Students that are not enrolled in Dallas ISD must bring their non-refundable cash payment in person.
There will be a mandatory Student and Parent Orientation on June 6 at 7 p.m. Tickets for the performance and postcards will be available during orientation.