Monday Night Politics features candidates in runoff election
DIANE XAVIER | 5/20/2016, 1:41 p.m.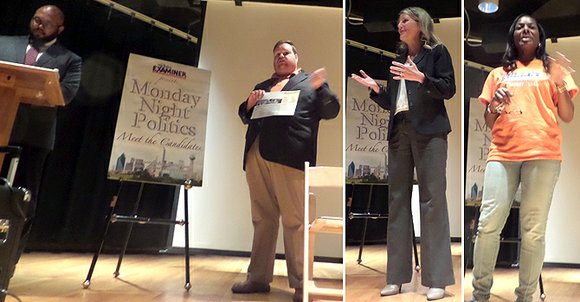 The Dallas Examiner
Monday Night Politics: Meet the Candidates hosted a forum for the runoff elections in Dallas County. The event took place Monday at the African American Museum in Fair Park.
The forum was moderated by Matt Houston and featured candidates in the runoff election for the tax assessor-collector with John R. Ames and Bennie Elenora Brown, Criminal Court District Number 2 judge with Nancy Kennedy and Chika Anyiam, and for constable Precinct 1 with Tracey Gulley and Mae Jackson.
The evening began with the race for the tax assessor-collector. Brown was not present.
Ames introduced himself and explained why he was seeking reelection for this office.
"These positions you hear about today, affect your daily life," he said. "For the last eight years, I've done what I think is a clean-up job as the Dallas County tax assessor-collector. I consider myself the tax-assessor janitor. I inherited an office that was 20 years behind on everything. It was behind on technology, behind on customer service, it was behind on facility needs, behind on staffing, and so we went in there and changed those things. We made sure every employee had a computer. We've increased things like how you can pay your taxes. We can't do things like our health care system, our emergency services; have new teachers in our classrooms, without property taxes. My office has created the highest efficiency rate to collect taxes."
Ames was asked the following questions:
Question 1: In your next term, is there unfinished business that you would like to do?
Ames: When I am elected, one of the things we are working on now with our Commissioner's Court is our facilities – some of which are not big enough. We are in the process of getting a bigger facility, which will allow us to service more customers. We are also going to redo our South Dallas government center on Polk Street. Our biggest problem right now is working with the state of Texas. The Department of Motor Vehicles is making rules left and right that what needs to be done in people's registration and car titles affects us here too.
Question 2: With all the monies received and procurement opportunities available, tell us the scope of opportunities for African Americans.
Ames: As Dallas County tax assessor-collector, it is my responsibility to take the appraised value of property taxes, put a tax bill together and send those out to get that money. When I get that money as quickly as possible, I actually give it to those entities. For example, county commissioners, it's at this point when they decide how they are going to spend the money our office has collected for them. The tax assessor does not have the authority to determine how the money is spent and where it goes. It all comes down to the Commissioner's Court, the City Council and the school board.
Question 3: Could you go into greater detail what exactly you do as tax assessor-collector and what are the skills set needed to do that job?