Music saved my life: Giving voice to the power of faith
Special to The Dallas Examiner | 5/20/2016, 1:43 p.m.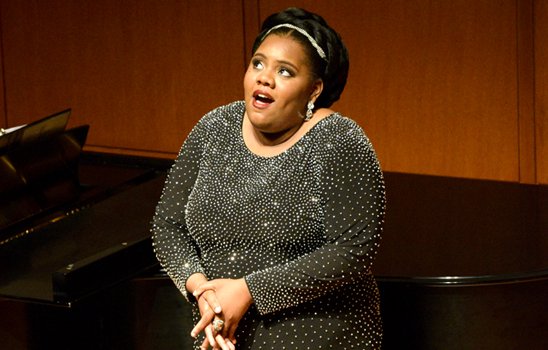 Special to The Dallas Examiner
Maya Angelou once said that people might forget what you say and do, but never how you make them feel. The saying describes the aspirations of SMU graduate Maya Jones – named for the legendary poet and activist. The young performer has an impressively powerful voice that some say can sometimes provoke feelings of elation, and other times feelings of sorrow.
Last week, as Jones prepared to graduate with bachelor's degrees in vocal performance and music education, she reflected on her evolution from a girl judged to be "too loud" or "too this or too that" into one of the most gifted performers to be cultivated at Meadows School of the Arts.
In her four years at SMU, the Mansfield native has made a name for herself not only as a vocalist and dancer but also as a motivational speaker.
"Music truly saved my life," Jones said.
Recounting her early struggles as the daughter of a single mother, she was a girl who yearned for a father figure.
"But I found the ultimate father: Jesus," she said.
With encouragement from her mother, grandmother and grandfather – a Baptist minister – she found strength through scripture and song.
Jones joined the choir at the Abundant Life Community Church in Fort Worth, and said she found herself singing pretty much all the time. She sought comfort by humming hymns including, O, How I Love Jesus and Amazing Grace, as well as dancing.
"Both helped express the emotions I needed to express."
A middle-school music teacher first gave her the idea she could channel her emotions and skills into a career. She loaned the 11-year-old Jones a few tapes of powerhouse performers: Italian tenor Luciano Pavarotti and American soprano Leontyne Price.
"I was blown away," Jones recalled. "It's hard to explain, but their voices reached me in a deeply moving way. That's when I realized how healing music can be. How empowering. It's truly a higher language. And for me, a higher calling."
She continued toward that calling, and as a high school student at the Fort Worth Academy of Fine Arts, she visited the Dallas Opera to hear rising African American opera star Solomon Howard. He recounted how his family's struggles with poverty did not deter him from a career in opera. His story made a major impact on her.
"I left that place crying, in awe of him," she remembered. "I was determined to shine just as brightly."
Jones worked to absorb everything she could from voice coaches as well as from YouTube, where she studied a wide range of high-impact singers – from Motown greats to gospel giants, including longtime idol Mahalia Jackson.
"Some people call me 'Little Mahalia,'" she mused.
In November 2011, Jones got the chance to show what she could do – and potentially land a college scholarship – during a National Association of Teachers of Singing scouting event attended by SMU Meadows School of the Arts Distinguished Professor Barbara Hill Moore.