Eliminating the stigma of chronic disease
EDDIE BERNICE JOHNSON | 5/29/2016, 4:45 a.m.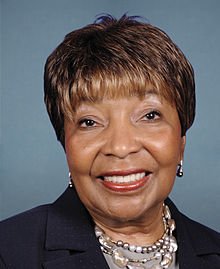 U.S. House of Representatives
"You don't look sick." Lupus patients often hear this comment from family, friends and even people they have just met. Many individuals living with lupus call this a blessing and a curse. While appearance may not indicate that an individual has been diagnosed with a chronic, life-changing and very high-cost disease, many people will simply not understand this.
When individuals with lupus are told that they don't appear to be sick, it is not only disheartening, but devastating. On average, it takes nearly six years and three physicians to receive a correct diagnosis of lupus. Unfortunately, lupus is often mistaken for other diseases because it has the ability to mimic other disease and affect multiple parts of the body. Lupus is also a very expensive chronic illness, costing at minimum $21,000 per year and up to $64,000 per year for both direct and indirect costs.
Most individuals with lupus actually show few noticeable signs of the disease. Instead, lupus can cause damage to any organ system in the body including the skin, lungs, heart, joints, kidneys and brain. Common symptoms include joint pain, skin rashes, fatigue and long-lasting fevers. The illness can vary so much that it can manifest in all of the above mentioned organs or it can enter complete remission with no symptoms.
Approximately half of adults live with a chronic illness. Many who live with a chronic illness experience stigma not just by their family and friends, but also within the health care space. Patients who internalize stigma and experience stigma from health care workers choose to access health care less and experience a decreased quality of life. Patients with chronic illness actually forego treatment because they do not want to face discriminatory stigma by the health care workers that are supposed to be part of their support system.
Patient silence is common with chronic disease, and in lupus, that silence has catastrophic consequences. Few people are actually aware that lupus exists and there is very little federal funding for finding the cause and a cure for lupus. There is currently only one approved drug to treat lupus. While ongoing lupus research is promising, we must remember that lupus is still largely a scientific and biological mystery.
We must strive to drive stigma out of the health care system overall. We must always remember that the appearance of someone with a chronic disease is often a poor indicator of how their illness affects them. Just because disease isn't visible doesn't mean it isn't there, ravaging various organs and draining bank accounts.
In order to remove stigma, we must not only teach ourselves to react with compassion but also make an effort to learn more about lupus. Rather than judging on appearance, we should offer support and kindness and ask questions when appropriate. As a co-chair of the Congressional Lupus Caucus, I am committed to spreading education and awareness so that we can drive down the time it takes for diagnosis. I am committed to advocating for more research dedicated to lupus so that we can learn what triggers this mysterious disease and find a cure. I am hopeful that my constituents will join me in my commitments.
U.S. Rep. Eddie Bernice Johnson is the ranking member of the House Committee on Science, Space, and Technology and the highest-ranking Texan on the House Committee on Transportation and Infrastructure. She represents the 30th Congressional District of Texas.