Frazier Elementary to become the Frazier House
Special to The Dallas Examiner | 5/29/2016, 4:29 a.m.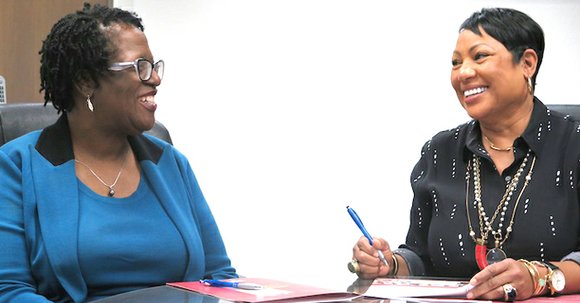 Special to The Dallas Examiner
Dallas ISD is set to partner with the non-profit community to turn a vacated school building in South Dallas into a one-stop shop that will serve both students and their families.
District officials signed a Memorandum of Understanding with the Zan Wesley Holmes Jr. Community Outreach Center on May 19 to transform Julia C. Frazier Elementary into the Frazier House. The school closed in 2012.
The Frazier House will offer a shared space between school district and the non-profit that meets the academic and social services needs of students and families in South Dallas.
"The Frazier House will let us serve the student beyond the classroom," said Dr. Cynthia Wilson, Dallas ISD chief of staff. "We've never had anything like this in Dallas ISD. We are excited about the positive impact this will have on our students and their families."
Allen Avery, a board member of the outreach center, said the Frazier House would address systemic issues in the surrounding community that lead to poverty. For parents, the house will offer education classes, skills training and social services such as counseling and financial literacy courses. It will also have space for a call center that could provide jobs in the community.
Meanwhile, the school district will have departments such as parent and community engagement, the truancy department and homeless services at the building to meet the needs of students.
"This partnership with Zan Wesley Holmes and the Dallas ISD is truly ground breaking," said Tom Hayden of Dallas ISD's Volunteer and Partnership Services. "We are excited to be a part of something extraordinary."
Dallas ISD set aside money in the 2015 Bridge Plan to help fund the renovation of the Frazier House.
Dallas ISD Trustee Bernadette Nutall, an advocate of the Frazier House, said the facility would have a significant impact on South Dallas families.
"I'm excited for the hope that the Frazier House will provide for our community," she said. "I'm happy how the Frazier House will offer the hope for tomorrow and for the future for South Dallas."