The Pursuit of Success: Chris Gardner speaks about agility in the business world
MIKE McGEE | 5/29/2016, 5:04 a.m.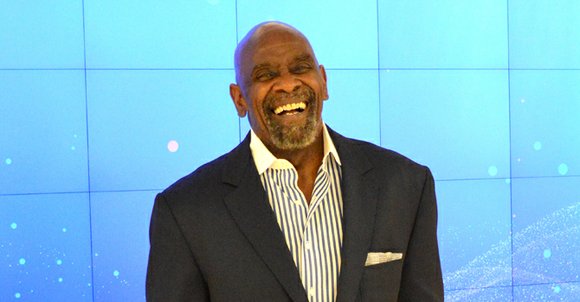 The Dallas Examiner
Chris Gardner – whose life journey from homeless father to business success was depicted in the book and Will Smith film The Pursuit of Happyness – is a stockbroker, motivational speaker, associate film producer and philanthropist. He is not, however, a role model – at least, not when it comes to doing things by the book.
"You know what I always say to people? I'm a role model for how to not to do it; but if you've got to do it, do it this way. Okay?" he explained.
Gardner, 62, was in town for the Small Business Expo held at the Dallas Convention Center on May 19. He headed up a program sponsored by locally-based AT&T entitled "Real Life Agility" as a way to underscore the concept that business people could achieve anything for their companies as long as they had drive, skills and a workable plan.
"This whole idea of: what can be done, and becoming [that], and being agile, and agility and what that means," were all aspects of his speech.
He remarked that, once professionals reach a certain age, "everything counts," and business planning with the flexibility and adaptability to changing conditions was paramount to success.
"We're not taking any shots at this point," Gardner illustrated. "Everything is purposeful and directed, right? And there's a plan. You've got to have a plan."
The speaker affirmed that the timing of his appearance at the expo was ideal.
"There are so many people in our country right now, 50 years old and older, who, honest-to-God, wonder, will they ever work again?"
Gardner's viewpoint may be a relevant factor for many in Southern Dallas as the national work force gets older and the baby boomers retire at a later age.
"South Dallas has the largest percentage of residents 65 years of age and older, 12%," out of the entire population of Dallas, the report 2013 HORIZONS: The Dallas County Community Health Needs Assessment revealed. African Americans make up 70 percent of that age-specific group.
"The world has changed forever," he stated. "But again, your skills, talent and expertise are not going to just walk away – but you do have to be agile … this is your chance to do something you really want to do. Why not?"
Gardner reflected on his appearance at the expo and considered what makes advice from someone who has gone through personal tribulation to achieve success in the trench warfare of corporate America, as opposed to that of an academic or economist, to be especially valuable to business owners.
"At some point we all need to be reminded it can be done. It has been done before. Somebody who probably came up a steeper side of the mountain, carrying a bigger load than I am, they did it," he remarked. "If you look at the facts, 50 percent of all the companies in the Fortune 500 were started in a bear market or a recession," the businessman acknowledged, citing that great success for small businesses could be fostered even in lean economic times.