'Waco Horror' centennial: Vicious murder of 17-year-old Jesse Washington
J.B. SMITH | 5/29/2016, 4:58 a.m.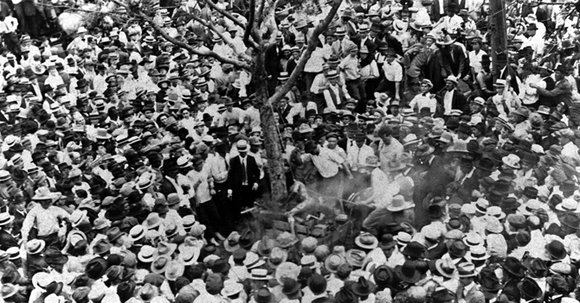 Waco Tribune-Herald
WACO (AP) – Mary Pearson doesn't need to be reminded of Jesse Washington's lynching.
The Robinson resident grew up hearing the stories from her grandmother, a relative of the 17-year-old farmhand who was tortured to death on Waco's town square a century ago last Sunday. The moral was never precisely stated, but the horror has stuck with Pearson all her 67 years.
Just after the boy received a death sentence for murdering his White employer, a mob seized him and dragged him to City Hall, where they doused him with coal oil and hanged him over a pile of burning wooden crates. They carved his charred body into souvenirs and dragged it around town.
But even more troubling for Pearson was what didn't happen: Law enforcement didn't intervene in the lynching, nor did anyone in a crowd of 15,000 spectators.
"All the folks were standing around, most of them were White, and nobody said anything, nobody stood up to try to do anything," Pearson said in an interview with the Waco Tribune-Herald after a recent proclamation by Waco's mayor condemning the lynching. "It's a hurt and frustration even to think about it. … It can cause me a heavy depression.
"Every time I think about it, I get really angry and I have to ask the Lord to help me."
White Waco spent most of the 20th century trying to forget the atrocity, dubbed the "Waco Horror" by the national press. The incident stood as a turning point in national anti-lynching efforts and helped bring to prominence the NAACP, the nation's oldest civil rights organization. But the atrocity received no mention in local history books until the late 1960s and was largely ignored or downplayed locally until 1998, when Councilman Lawrence Johnson publicly called for a memorial to "atone" for the lynching.
Meanwhile, the story survived on the frequency of a whisper in corners of the Black community, in the form of legends and admonitions to sons and daughters.
Forgetting became impossible in the mid-2000s, when a series of books, exhibits and news articles brought the incident again to national attention. In 2006, the Waco City Council and McLennan County commissioners passed a general condemnation of the area's lynching past.
The Community Race Relations Coalition and the NAACP have headed an effort to commemorate the centennial this spring with a lecture series, a march and a push to get a state historical marker for the lynching. The observances culminated with a "town hall" meeting at the Bledsoe-Miller Community Center.
The centennial is not meant to reopen old racial wounds or cast blame on anyone now living, said Peaches Henry, a McLennan Community College assistant English professor and president of the Waco NAACP. Rather, it's an opportunity to bring Whites and Blacks together to reflect on a difficult shared history.
"Here's the importance of history: It allows us to remind ourselves of both the good and the bad, and then to correct our course," she said.
Henry said the city and county resolution against lynching a decade ago was a good start. The question of Washington's innocence or guilt aside, Henry said city and county leaders failed to uphold the rule of law and were complicit in a heinous crime of torture.