Promoting leadership in STEM careers
Special to The Dallas Examiner | 11/7/2016, 9:28 a.m.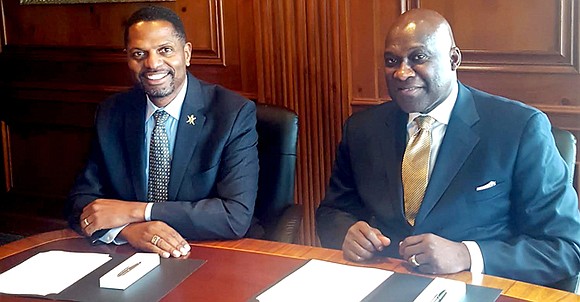 Special to The Dallas Examiner
ATLANTA – The National Black MBA Association has partnered with the National Society of Black Engineers to create a strategic alliance in an effort to provide STEM professionals with enhanced leadership development and access to the country's top corporations with interest in recruiting management level professionals with experience in science and technology disciplines.
The NSBE is one of the largest student-governed organizations based in the United States – with a membership of 31,000.
The NBMBAA is professional member-based organization that leads in the creation of educational and career opportunities for Black professionals – with a membership of 9,800.
"The number of African Americans graduating with master's degrees in science and technology has increased in recent years, but still pales in comparison to the graduation rates of other ethnicities," said Jesse Tyson, NBMBAA president and CEO. "We are optimistic that this partnership will increase S.T.E.M. engagement among African Americans in graduate programs and will help more students and professionals in science, technology engineering, and math achieve advanced degrees and management careers."
The three-year partnership will provide members of both organizations with exclusive offers that will include membership discounts, continuing education programs, professional development, and other joint local chapter engagement initiatives.
"Today's job market has shifted and many executives in science and technology fields need advanced degrees in business to secure leadership roles at top companies," said Karl W. Reid, Ed.D, NSBE executive director. "Our partnership with the National Black MBA Association will reinforce our commitment to developing and grooming our members to be able to compete globally."
This announcement has come only weeks before the kickoff of the NBMBAA 38th annual conference and exposition to be held in New Orleans, Oct. 11 through Oct. 15.
The conference theme, "The Q Factor: Quality, a Leadership Paradigm," highlights the importance of quality leadership and how it can be used to inspire, disrupt and transform the business landscape. Attendees can expect to learn more about marketing, business and leadership from the various workshops and events offered, including the Leadership Institute, an executive development program that offers cutting edge seminars facilitated by highly credentialed faculty, and the Entrepreneurial Institute, a day long series of business development workshops.
Conference participants can also expect to connect with onsite recruiters from industry giants. To learn more about the conference, visit http://www.nbmbaaconference.org.
The Innovation Whiteboard Challenge
Innovative entrepreneurs with cutting-edge ideas and superb pitching skills will have the opportunity to win $10,000 in business funding by participating in the the Innovation Whiteboard Challenge is an intense, A-game competition where entrepreneurs armed with only an electronic whiteboard, marker, and their salesmanship are given five minutes to present their business idea to a panel of venture capitalists, academicians, and established businesspeople. One lucky finalist will walk away with a $10,000 grand prize.
All competitors must be NBMBAA members. Final rounds for the challenge will take place at the NBMBAA 38th annual conference in New Orleans at the Ernest Morial Convention Center, Oct. 14, where three finalists will present their business ideas to a panel of venture capitalists, academicians and successful business owners with the hopes of winning the grand prize. For more information, visit http://nbmbaawhiteboardchallenge2016.startupcompete.co.