Birds of Paradise lands in Downtown Dallas museum
MIKE MCGEE | 11/13/2016, 7:37 p.m.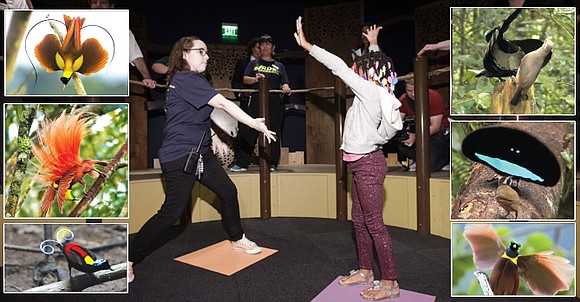 The Dallas Examiner
The exhibition Birds of Paradise may provide families with a new option when it comes to family-friendly scientific activities, according to one academic – no video games or online streaming needed. The special exhibit is at the Perot Museum of Nature and Science in Downtown Dallas and highlights the 18 trips made over an eight-year period by photographer Tim Laman and Cornell Lab of Ornithology scientist Edwin Scholes in their effort to study the 39 different species of rare bird found only in Papua New Guinea.
The exhibition takes visitors through a virtual rain forest and features hands-on activities and a touch-table interactive area, as well as other points of interest. These facets of the exhibition may be elements that would make bird watching beyond the confines of the museum a tempting activity for many.
J. Drew Lanham, distinguished alum professor at Clemson University and certified wildlife biologist, believes "birding" would be ideal for students, couples or families for a multitude of reasons.
"First of all, birds are inspirational in that they do something that we humans can't do – at least, unassisted – in that most of them fly, and so that sort of fantastical thing has in many ways inspired humans for a very long time," Lanham said. "The ability, at least it would seem, to defy gravity and to unhinge from the moorings of the earth is an important thing, and birds represent freedom."
Lanham, who wrote the tongue-in-cheek article 9 Rules for the Black Birdwatcher, mentioned the creatures are something everyone could have a potential interest in.
"Everyone has a bird story. Even if it's the leg of chicken that you ate last night, that chicken is a bird and so we can begin there and begin to talk about all sorts of environmental issues that surround that particular bird, but I think what we see in terms of the diversity of birders, and inclusion beyond that – in sort of natural sciences and conservation-related careers, and also hobbies – is that we really have to broaden the scope of that going into the future if we are to conserve nature because we know the country is changing, demographically," Lanham explained.
He indicated that bird watching might even be a simple activity that will help break down racial barriers when it comes to the study of the natural sciences.
"I know there are folks of many colors who appreciate nature but I think a part of what we haven't done is that we haven't necessarily worked as hard as we should work to… embrace folks in different way," he said further, pointing out some considerations that Black individuals in the Southern Sector may relate to birds.
"We have to understand that different people may see nature in different ways and we need to pay attention to the stories that people have to tell," he continued. "Some of those stories are unpleasant; for example, stories of fear of being in the woods because of past history. Or, today's stories of children who are not growing up rural and whose association with nature is only virtual, so meeting people where they are, understanding that green spaces in cities are critical places to help meet nature on kind of friendlier terms."