Initiative pushes power of Black women's voice/vote
DIANE XAVIER
 | 11/13/2016, 10:17 p.m.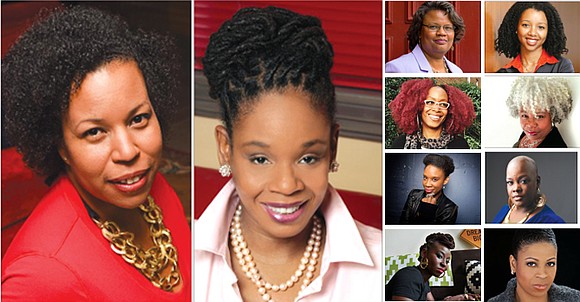 The Dallas Examiner
Through blood, sweat and tears, civil rights leaders fought so that all people of color would have the opportunity to participate in the democratic process in the United States.
One such iconic leader in the battle was Fannie Lou Hamer, an African American female activist. She fought segregation and injustice in the South during the Civil Rights era and organized and encouraged Blacks to vote.
Her legacy lives on, and she has influenced many to keep up the movement.
Today's organizations, such as Higher Heights, an independent and political voice for Black women, are doing what they can to make sure minority groups such as Black women show up at the polls in large numbers using tools and resources such as Blackwomenvote.com.
They launched a social media campaign, #BlackWomenVote, and a Get Out the Vote initiative to help increase the number of Black women voting at the polls in this year's presidential election.
"We have launched this campaign to provide meaningful ways for Black women to organize their networks this election and demonstrate our collective power for change in our communities and nationwide," said Kimberly Peeler-Allen, co-founder of Higher Heights. "This is really about harnessing the power of Black women to ensure we have a seat at the political and economic decision tables."
Allen and co-founder Glynda Carr decided to start the organization in 2011 after seeing the same few faces at political rallies and events in New York state.
"I was working on the campaign and fundraising side and Glynda was working on the legislative side when we realized that it was the same small group of women of color, particularly Black women, showing up to these conversations about our community and we knew that there were a higher number of people concerned about these issues that weren't involved," Allen said. "So we decided that we would create our own space for Black women where our voices could be heard at the national level."
According to a study done by Nielsen in 2015, Black women spend three hours more per day on social media than other groups. Allen said this statistic was a perfect opportunity for her organization to take advantage of.
"So we decided to create a website where Black women can get information about voting," she said.
The website includes an Election Center, where women can pledge to vote, find their polling places and get information on how to register to vote and get others involved in the voting process.
This isn't the first effort by Higher Heights to increase Black women voices. In the 2008 and 2012 presidential elections, they also helped get out the vote.
"In both those election years, Black women turned up to vote at a rate of 70 percent," Allen said. "We hope to have those same numbers for this year's election because we know when you fire up a Black woman, she doesn't go to the polls alone."
Allen and Carr sent out a letter to all four presidential candidates in this year's election asking them to hear the main concerns of Black women, which include economic issues and economic equity.
"There was a study done by the University of California recently that showed that Black women are the least heard voice in political discourse and we want to change that," Allen said. "Our goals for this campaign are to move as many Black women to the polls and we want to be able to say that Black women showed up and showed out on Election Day."