Old Slave Cemetery holds Denton history
MIKE MCGEE | 11/13/2016, 10:15 p.m.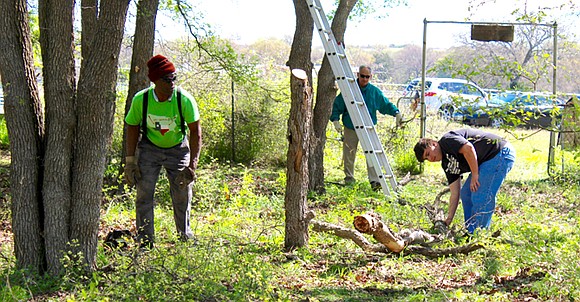 The Dallas Examiner
Along the parcel of land south of FM 455, surrounded by private property, is the burial spot for approximately 500 African Americans. Many interred there were enslaved or descended from freed slaves, yet the cemetery had been neglected for decades.
When Willie Hudspeth, president of the Denton County NAACP, was asked why his mission to restore the St. John's Cemetery near Pilot Point held such historical importance in his view, he spoke about personal and community responsibility.
"Well, there's two-folds to that question. The first one is mine," Hudspeth said. "I don't know and I can't hardly put it into words what possessed [me] being out there at the cemetery – these people who must have had a horrific time with life, and just an awful struggle, and then to just die in that poverty, and that situation. And nobody even knew about them… I don't know why – it just helps make me just feel like I belong somewhere. I'm part of something, and I'm going to be okay. People can't bring me down."
He voiced that, when it came to a larger cultural meaning behind the cemetery's clean up, reclaiming the land is a way of acknowledging the past while at the same time moving forward.
"To the community and society as a whole, we've got to keep up with how we got where we are. Somebody's got to chronicle this," he said. "To have that theme: At once we're here, and now we're here, and we're trying to get here. Now, if you don't have that 'where we came from', I don't see how in the world you figure out where you're going."
Hudspeth considered his own ancestry to further illustrate his point.
"That's what we need it for; the history. How did we get where we are? I wish I knew what my daddy's daddy did. I wish I even knew what his name was. Where he came from. I don't know any of that."
Hudspeth said that he got word of the abandoned cemetery earlier this year while he was at the Denton Courthouse-on-the-Square, attempting to get a Civil War Confederacy monument moved to a museum.
"One time I was demonstrating and a person said, 'Well, why don't you do something about justice? The city owns this cemetery here and in this bill-of-sale, or whatever it is they use to determine who gets it, it has this stipulation that Black people can't be buried there,'" he recalled. Hudspeth took the issue to the city council, moved to have the stipulation negated – and got word of a mysterious nearby "old slave cemetery" during the process.
Those buried in the forgotten cemetery were listed in official records at the time as being buried in what was named plainly the Old Slave Cemetery, according to Peggy Riddle, director of the Denton County Office of History and Culture. The oldest recoded burial dates back to 1882; the most recent was 1938. She said that by the 1950s, locals could not find the entrance to the cemetery, as it had become so overgrown as the surrounding land use changed and the community grew elsewhere.