Technology meets history at DBDT
Special to The Dallas Examiner | 11/13/2016, 7:46 p.m.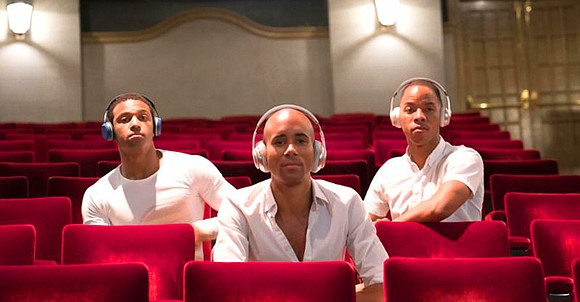 Special to The Dallas Examiner
An innovative use of technology makes history for the Dallas Black Dance Theatre during its 40th anniversary season: The theater has commissioned choreographer Tiffany Rea-Fisher and composer Michael Thurber to create a unique audience experience for its Director's Choice Series, at the Dee and Charles Wyly Theatre at 2400 Flora Street in the Dallas Arts District, Nov. 4 through Nov. 6.
The world premiere of The B-Side reinvents the concert dance experience by allowing audience members to select from three original musical scores using wireless headphones as they view the dance.
Rea-Fisher, the artistic director for Elisa Monte Dance in New York City, originated the idea for The B-Side several years ago but did not consider creating it until DBDT commissioned her to do a work.
"This is the company that likes to push boundaries, take risks and likes to be on the cutting edge of the industry, so I felt it was a perfect marriage," said Rea-Fisher, who has set works for DBDT in the past. "I think DBDT founder Ann Williams understands longevity and what it takes to last. She has been able to do that because she is not afraid of the future or the next generation coming up and she embraces it, which is a rare quality."
New York City composer Michael Thurber developed three different musical scores for the dance. Rea-Fisher chose the title The B-Side because the first musical score will have the familiar feeling of a Motown album B side. The second will be more acoustic, and the third will have an electronic synthesized feel.
"Never does a composer get to make multiple versions of music for the same dance. So this is a dream come true," Thurber said. "Many times in the creative process you have to cut a lot of great ideas. This enables me to use more of my ideas in this project."
After The B-Side, Director's Choice goes from high-tech to historical reflection of nostalgic dance themes in the world premiere of Tribute. Matthew Rushing, of Alvin Ailey American Dance Theater, is choreographing the dance that chronicles 100 years of African American dance masters, including Talley Beatty, Donald McKayle, Pearl Primus and Alvin Ailey.
In developing the work, Rushing employed feedback from DBDT dancers. His choreography has been selected as a recipient of a grant from the TACA Donna Wilhelm Family New Works Fund.
DBDT will also restage Christopher Vo's touch (listen), which was first choreographed for the company in 2014.The dance is described as an organic work with a calming effect, almost like a meditative movement journey. Vo grew up in Dallas and graduated from Booker T. Washington High School for the Performing and Visual Arts, where he was named a Presidential Scholar. He earned his BFA from The Juilliard School, then went on to win the coveted Princess Grace Foundation Choreography Fellowship Award.
To learn more or purchase tickets, visit http://www.attpac.org.